Cheetahs finally lands in India
Context
Recently, eight cheetahs (3 male, 5 Female) have landed in Gwalior from Namibia's capital Windhoek and reintroduced in Kuno National Park.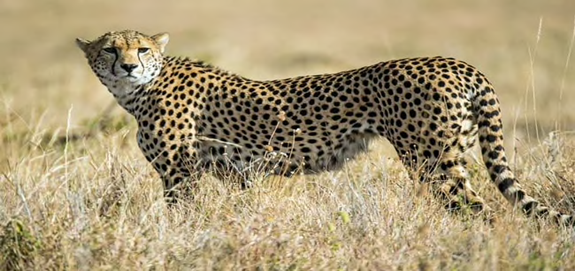 Earliest historical references
They are found in classical Greek records of India, from Strabo, about 200 years before the Common Era.
In the Mughal Period, cheetahs were used very extensively for hunting.

Emperor Akbar had 1,000 cheetahs in his menagerie.

Central India, particularly the Gwalior region, had cheetahs for a very long time.

Various states including Gwalior and Jaipur used to hunt cheetahs.

The country's last spotted cheetah died in Sal forests of Chhattisgarh's Koriya district in 1948 and the wild animal was declared extinct in the country in 1952.
Maharaja Ramanuj Pratap Singh, the ruler of a small princely state in today's Chhattisgarh shot India's last 3 surviving cheetahs.
Challenges associated with coexistence approach
Unfenced system: Kuno NP will be more challenging, as it is not enclosed / fenced. There have been no successful cheetah reintroductions into unfenced systems.
Anthropogenic threats to cheetah survival include snaring for bush meat and retaliatory killings due to livestock depredation.
Human-animal conflict: This would place them at the risk of human-related mortality including snaring and retaliatory killings by livestock farmers.