Context:
Hindi Diwas or Hindi Day is observed every year on 14 September to mark the popularity of Hindi as an official language of India.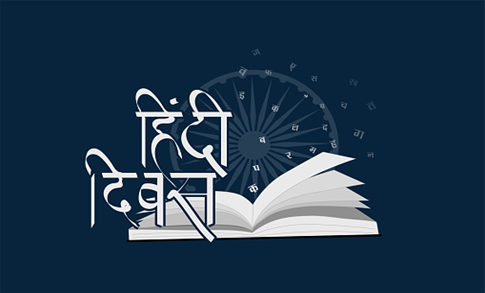 Historical Background
The Hindi language originated from the Indo-Aryan line of the Indo-European language speaking family.
Hindi Diwas or the National Hindi Day is celebrated every year in India on September 14 to mark the day of adoption of Hindi as the official language by the Constituent Assembly of India in 1949.
The decision of using Hindi as an official language of India was legalised by the Constitution of India on January 26, 1950.Though, India's first Prime Minister Jawaharlal Nehru decided to celebrate Hindi Diwas on this day.

However, on 14th September 1953 the first Hindi Day was observed.

Hindi written in Devanagri script was proclaimed as the official language of India by the Constituent Assembly and Beohar Rajendra Simha played an important role in achieving it.

Beohar Rajendra Simha was born on September 14, 1916, and Hindi Diwas is marked as his birth anniversary.

Hindi is also an eighth schedule language.

Hindi is not a classical language.

Under Article 343 of the Indian Constitution, the Hindi language was adopted.
Article 351 pertains to the 'Directive for development of the Hindi language'.
Origin as a Language
According to the 2011 census, in India about 6% speakers identify Hindi as their mother tongue.
The name Hindi holds its origin in Persian.

The word Hind means 'land of the Indus River' in Persian.
It was in the early 11th century that Turkish invaders named the language of the region Hindi, 'language of the land of the Indus River'.

The modern script of Hindi, Devanagari came into existence in the 11th century.
Hindi is the fourth most spoken language of the world.

The first three are Chinese, Spanish and English.

It is spoken in various countries including South Africa, Guyana, UAE, Pakistan, Nepal, Bangladesh, USA, UK, Germany, New Zealand, Uganda, Suriname, Trinidad and Mauritius.
To promote Hindi language across the world, World Hindi Day is celebrated on 10 January every year.
Government Initiatives to Promote Hindi
The Central Hindi Directorate was established in 1960 by the Government of India under the Ministry of Education to promote and propagate Hindi.
Indian Council for Cultural Relations (ICCR) has established 'Hindi Chairs' in various foreign universities/institutions abroad to promote Hindi language in foreign countries.
LILA-Rajbhasha (Learn Indian Languages through Artificial Intelligence) is a multimedia based intelligent self-tutoring application for learning Hindi.
E-Saral Hindi Vakya Kosh and E-Mahashabdkosh Mobile App, both initiatives of the Department of Official Language, aim to harness information technology for the growth of Hindi.
Rajbhasha Gaurav Puraskar and Rajbhasha Kirti Puraskar recognise contributions to Hindi.