India's first bullion exchange
Context
The Prime Minister is going to launch India's first bullion exchange — the India International Bullion Exchange (IIBX) — at Gujarat's GIFT City (Gujarat International Finance Tec-City).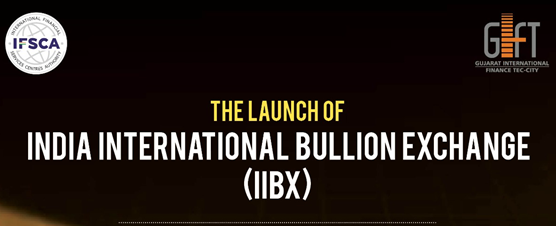 About The bullion exchange
The bullion exchange was announced in the 2020 Union Budget.
The India International Bullion Exchange will facilitate efficient price discovery with the assurance of responsible sourcing and quality, apart from giving impetus to the financialisation of gold in India.
It has enrolled jewellers to trade on the exchange, and has also set up necessary infrastructure to store physical gold and silver.
India's maiden International Financial Services Centre (IFSC) is located between Ahmedabad and Gandhinagar.
What is Bullion?
The London Bullion Market, which allows trading 24 hours a day and facilitates futures and options trading, is the primary global market trading platform for gold and silver.
Bullion refers to physical gold and silver of high purity often kept in the form of bars, ingots, or coins.
It can be considered legal tender and is often held as reserves by central banks or held by institutional investors.
These bullion markets are typically over-the-counter (OTC) markets, that is to say, they deal in physical gold and silver.


Who will operate it?
The National Stock Exchange, Multi Commodity Exchange, India INX International Exchange, National Securities Depository and Central Depository Services Ltd have joined hands to establish the holding company India International Bullion Holding IFSC.
The joint company will operate the International Bullion Exchange.
Who can trade on the IIBX?
Qualified jewellers will be permitted to import gold through the IIBX.

To become qualified jewellers, entities require a minimum net worth of Rs 25 crore and 90 per cent of the average annual turnover in the last three financial years through deals in goods categorised as precious metals.
Background
For the first time in India, since the liberalisation of gold imports through nominated banks and agencies in the 1990s.

The eligible qualified jewellers in India, as notified by International Financial Services Centres Authority (IFSCA), have been allowed to directly import gold through IIBX.
This reform permits direct participation of qualified jewellers on IIBX for the purpose of importing gold.

Apart from qualified jewellers, non-resident Indians and institutions will also be able to participate on the exchange after registering with the IFSCA.

In the medium term, institutions such as Funds for Gold ETF are also expected to participate.

A qualified jeweller based in India and not having physical presence in the IFSC may apply for a limited-purpose trading membership — where the entity can only trade on its own account and no client onboarding shall be permitted.
Advantages of having a bullion exchange in India
The IIBX will be a gateway for bullion imports into India, where all bullion imports for domestic consumption shall be channelised through the exchange.

In addition to providing a trading avenue to various participants, a bullion exchange will also offer the advantages of price discovery, transparency in disclosures, guaranteed centralised clearing and assurance of quality.

A bullion exchange, apart from providing standardisation and transparent mechanism, will also be an important step towards financialization of bullion-based products.