Context
Recently, India joined a dozen other nations to launch the Indo-Pacific Economic Framework for Prosperity (IPEF), a US-led trade initiative meant to counter China's aggressive expansion in the region.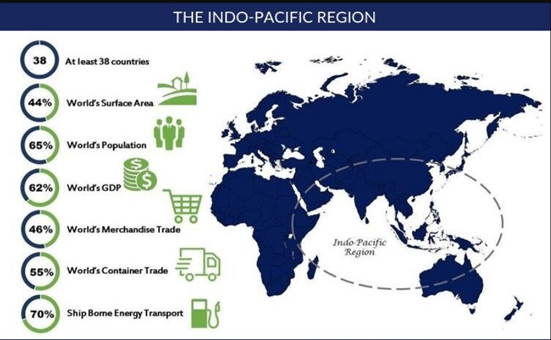 What is IPEF?
The grouping, which includes seven out of 10 members of the Association of South East Asian Nations (ASEAN), all four Quad countries, and New Zealand, represents about 40% of global GDP.
IPEF is short for Indo-Pacific Economic Framework for Prosperity. The framework envisions a free, open and secure Indo Pacific Region.
The negotiations for the IPEF are expected to centre around four main pillars, including trade, supply chain resiliency, clean energy and decarbonisation, and taxes and anti-corruption measures.
Countries would have to sign up to all of the components within a module, but do not have to participate in all modules.
The "fair and resilient trade" module will be led by the US Trade Representative and include digital, labor, and environment issues, with some binding commitments.
The IPEF seeks to strengthen economic partnership amongst participating countries with the objective of enhancing resilience, sustainability, inclusiveness, economic growth, fairness, and competitiveness in the Indo-Pacific region.
About the Indo-Pacific region
The Indo-Pacific region is the centre of manufacturing, economic activity, global trade and investment.

The world's oldest commercial port was in Lothal Gujarat, India.

India is committed to a free, open, and inclusive Indo-Pacific region and believes that deepening economic engagement among partners is crucial for continued growth, peace, and prosperity.
India is keen to collaborate with partner countries under the IPEF and work towards advancing regional economic connectivity, integration and boosting trade and investment within the region.
India's Indo-Pacific strategy
India's Indo-Pacific strategy walks on two legs-

Strengthening national engagement with the region- It elevates India's salience in the Indo-Pacific and raises Delhi's value for its partners
Stronger partnerships with like-minded nations- To boost India's national capabilities and enhance its reach and impact.