Context
India has got a waiver from Trump administration on the S-400 air defence system.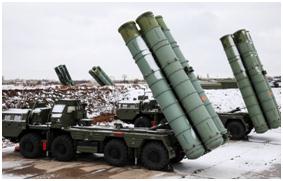 What is the S-400 air defence missile system?
The S-400 Triumf, (NATO calls it SA-21 Growler), is a mobile, surface-to-air missile system (SAM) designed by Russia.
It is the most dangerous operationally deployed modern long-range SAM (MLR SAM) in the world.
The system can engage all types of aerial targets including aircraft, unmanned aerial vehicles (UAV and ballistic and cruise missiles within the range of 400km, at an altitude of up to 30km.
The system can track 100 airborne targets and engage six of them simultaneously.
It represents the fourth generation of long-range Russian SAMs, and the successor to the S-200 and S-300.
The S-400's mission set and capabilities are roughly comparable to the famed US Patriot system.
The S-400 Triumfair defence system integrates a multifunction radar, autonomous detection and targeting systems, anti-aircraft missile systems, launchers, and command and control centre.
It is capable of firing three types of missiles to create a layered defence.
It can also be integrated into the existing and future air defence units of the Air Force, Army, and the Navy.
Why does India need it?
China's acquisition of the S-400 system amid the rising escalation between India and China is significant.
What is CAATSA and how does it affects India' defence procurements?
Countering America's Adversaries through Sanctions Act (CAATSA) was enacted on August 2, 2017.
Its core objective is to counter Iran, Russia and North Korea through punitive measures.
Section 231 of the Act empowers the US President to impose, sanctions enumerated in Section 235 of the Act on persons engaged in a "significant transaction" with Russian defence and intelligence sectors.
CAATSA, if implemented in its stringent form, would have affected India's defence procurement from Russia.
Apart from the S-400 air defence system, Project 1135.6 frigates and Ka226T helicopters will also be affected.
It will impact joint ventures, like Indo Russian Aviation Ltd, Multi-Role Transport Aircraft Ltd and Brahmos Aerospace.
It will also affect India's purchase of spare parts, components, raw materials and other assistance.
How did the exemption for India come about?
CAATSA impacts Indo-US ties and dents the image of the US as a reliable partner.
At a time when the US is projecting India as a key partner in its Indo-Pacific strategy, with the US National Security Strategy 2017 explicitly supporting New Delhi's vital role in this regard.