Young, Upcoming and Versatile Authors (YUVA) 2.0
Context
The Prime Minister's Scheme for Mentoring Young Authors – YUVA 2.0 was launched.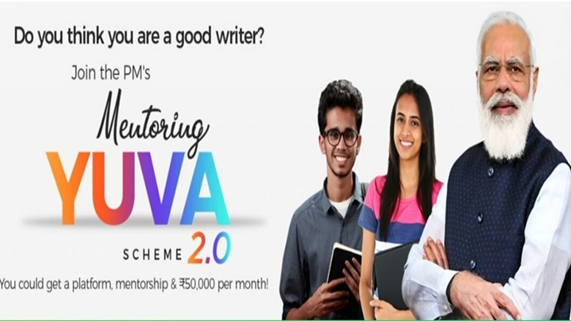 About 'Young, Upcoming and Versatile Authors' (YUVA) Scheme
The YUVA scheme is basically a mentorship program to train young authors.

It is aimed at mentoring 75 writers under the age of 30.

It targets young authors who are ready to express themselves and portray Indian culture and literature in a global arena.
Under the scheme, each author will get a consolidated scholarship of Rs 50,000 per month for a period of six months.
The idea behind this program is to push reading and authorship as a profession on par with other professions.
The scheme envisions cultivating modern ambassadors of Indian literature as the country heads towards 75 years of independence.
About YUVA 2.0
The launch of YUVA 2.0 is in tune with the Prime Minister's vision to encourage the youth to understand and appreciate India's democracy.
YUVA 2.0 is a part of India@75 Project (Azadi Ka Amrit Mahotsav) to bring to the fore the perspectives of the young generation of writers on the THEME: 'Democracy (institutions, events, people, constitutional values – past, present, future)' in an innovative and creative manner.
The National Book Trust (NBT), India, under the Ministry of Education as the Implementing Agency will ensure phase-wise execution of the Scheme under well-defined stages of mentorship.
It aims to promote reading, writing, and book culture in the country.
In view of the fact that our country is ranked third in the arena of book publishing and we have a treasure trove of indigenous literature, India must project it at the global stage.
About the National Book Trust
It is an apex body established by the Government of India (Department of Higher Education, Ministry of Education) in the year 1957.
NBT is mandated to publish-

the classical literature of India
Outstanding works of Indian authors in Indian languages and their translation from one Indian language to another
Translation of outstanding books from foreign languages
Outstanding books of modern knowledge for popular diffusion.