4 Years of Ayushman Bharat-PradhanMantri Jan ArogyaYojana (AB PM-JAY)
Context:
Ayushman Bharat-PradhanMantri Jan ArogyaYojana (AB PM-JAY) completes four years.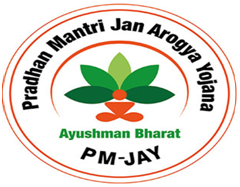 About PradhanMantri Jan ArogyaYojna (PM-JAY)
The scheme was launched in September 2018 and recommended by the National Health Policy 2017, to achieve the vision of Universal Health Coverage (UHC).
It is a Centrally Sponsored Scheme having a central sector component under Ayushman Bharat Mission.
PM-JAY was earlier known as the National Health Protection Scheme (NHPS) before being rechristened.

It subsumed the then-existing RashtriyaSwasthyaBimaYojana (RSBY) which had been launched in
Key-Features
It is the world's largest health insurance scheme fully financed by the government and the cost of implementation is shared between the Central and State
It provides a cover of Rs. 5 lakhs per family per year for secondary and tertiary care hospitalization across public and private empanelled hospitals in India.
It covers up to 3 days of pre-hospitalization and 15 days of post-hospitalization expenses such as diagnostics and medicines.
There is no restriction on the family size, age or gender.

The RSBY had a family cap of five members.

All pre-existing conditions are covered from day one.
Achievements
In the last three years, the AB PM-JAY scheme has achieved several milestones in achieving the target of Universal Health Coverage.
The scheme has widened its arm across 33 States/Union Territories bringing ease to the beneficiary's life while availing the treatment.

More than 2 crore treatments have been provided to the beneficiary under the scheme.
More than 17 crore beneficiaries have been verified through the Beneficiary Identification System (BIS) and have been provided with Ayushman cards.
It has proved to be a boon for women.

Of the total number of beneficiaries who have got benefitted under the scheme, over half of them are women.
About Ayushman Bharat Digital Mission (ABDM)
The Ayushman Bharat Digital Mission (ABDM) Launched in September 2021.
It aims to provide digital health IDs for all Indian citizens to help hospitals, insurance firms, and citizens access health records electronically when required.
The National Health Authority (NHA) under the Ministry of Health and Family Welfare is the implementing Agency.
The mission aims to create a seamless online platform that will enable interoperability within the digital healthcare ecosystem.
The mission has been conceptualized as a set of 'digital building blocks'.

Each building block is seen as a 'digital public good' that can be used by any entity in the digital health ecosystem and provides key capabilities that enable the ABDM vision.