Delhi govt's inducts two fire fighting robots into fleet
Context
Recently, the Delhi Government has undertaken a unique initiative of using robots for extinguishing fires in the city.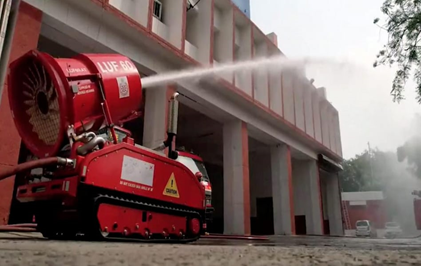 About the Robots
The robots were bought from an Austrian company.
This machine can be operated remotely from a distance of 300 metres.

It will not be affected by fire, smoke, heat, or any other adverse condition.

With the help of remote control, it can be sent inside the areas affected by the fire and has a tracking system like army tanks, through which these robots can easily climb stairs.
It has a 140-horsepower engine.
It is also equipped with a crawler belt above its tires, allowing it to move easily into congested places and gain access to hard-to-reach spots.
A ventilation fan keeps the machine cool.
The sensor and camera are installed in the front part of the robot.

The sensor will go near the fire and release the water according to the temperature there.

The fire-resistant robots equipped with modern technology can cover an area of about 100 metres at once and are capable of dousing the fire immediately.
These robots will also be capable of releasing high water pressure at the rate of 2,400 litres per minute.
Significance
This initiative will help reduce collateral damage and save precious lives.