India began cooperation with Combined Maritime Forces (CMF)
Context
Recently, India began cooperation with Bahrain-based Combined Maritime Forces (CMF).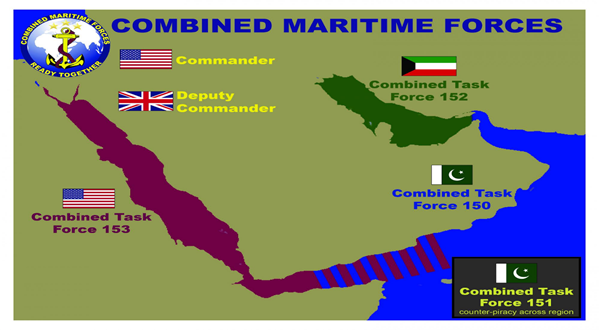 Background
In April this year, during the India-US 2+2 India announced that it would be joining the CMF as an associate partner, in order to strengthen cooperation in regional security in the western Indian Ocean.
Last month, India formally commenced cooperation with the Bahrain-based multilateral partnership, Combined Maritime Forces (CMF).

The modalities of the exact nature of cooperation were in place and they are now being worked out.
About Combined Maritime Forces (CMF)
It is the US-backed counterterrorism coalition aimed at protecting international waters. It was established in 2002 with only 12 members.
The coalition was formed with like-minded partners to counter the threat of international terrorism and uphold the international rules-based order.
The coalition is headquartered in Bahrain.
It is a multinational maritime partnership, which exists to uphold the Rules-Based International Order (RBIO) by countering illicit non-state actors on the high seas and promoting security, stability, and prosperity.
CMF is Commanded by the U.S. Navy Vice Admiral, who also serves as Commander US Naval Forces Central Command (NAVCENT) and US Navy Fifth Fleet.

All four commands are co-located at US Naval Support Activity Bahrain. In the immediate neighborhood.

The deputy commander of the CMF-B is a commodore of the United Kingdom's Royal Navy.
It is comprised of four task forces-

CTF 150 (maritime security and counter-terrorism)
CTF 151 (counter-piracy)
CTF 152 (Arabian Gulf security and cooperation)
CTF 153 (Maritime security in the Red Sea & Gulf of Aden

It is a flexible organization and members are not bound by either a political or military mandate.
Counter-narcotics, counter-smuggling, suppressing piracy, encouraging regional cooperation, and engaging with regional and other partners to strengthen relevant capabilities in order to improve overall security and stability, and promoting a safe maritime environment free from illicit non-state actors.
When requested, CMF assets at sea will also respond to environmental and humanitarian incidents.
Significance of CMF
Protection of trade routes
Counter-terrorism
Counter-piracy
Curbing Illegal Fishing
Membership
Participation in the CMF-B is voluntary — it's mandated neither by a political agreement nor a military one.
The coalition has 34 members from all across the world.
Recently, India became an associate member of the maritime partnership.India is the 35th member of this grouping.

Other Asian members (full members) include Pakistan, the Philippines, Seychelles, Singapore and Malaysia.