India's achievements in CWG 2022
Context
Recently, Commonwealth Games 2022 finishes, as India's performance grabs global eyes.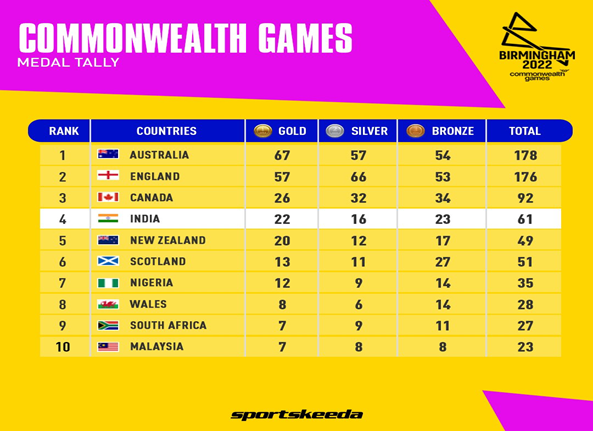 What are commonwealth nations?
The Commonwealth of Nations is an association of independent sovereign states, most of which are former colonies of the United Kingdom.
The British Monarch remains the head of the Commonwealth.
Hence, the Queen of the United Kingdom, Elizabeth II is given the title of Head of the Commonwealth.
This title doesn't hold any political power over its member countries.
Members of Commonwealth
There are 54 countries in the Commonwealth, in Africa, Asia, the Americas, Europe, and the Pacific. Commonwealth countries are diverse – they are amongst the world's biggest, smallest, richest, and poorest countries.
32 of the members are classified as small states.

Small states are especially vulnerable to things like climate change or developmental challenges.

Every 2 years, the member countries meet to discuss issues affecting the Commonwealth and the wider world at the Commonwealth Heads of Government Meeting (CHOGM).
All members have an equal say regardless of size or wealth. This makes sure even the smallest countries have a voice in shaping the Commonwealth.