India's great anaemia mystery
Context
The recent National Family Health Survey (NFHS-5) data shows anaemia rates increased from 53 per cent to 57 per cent in women and 58 per cent to 67 per cent in children in 2019-21.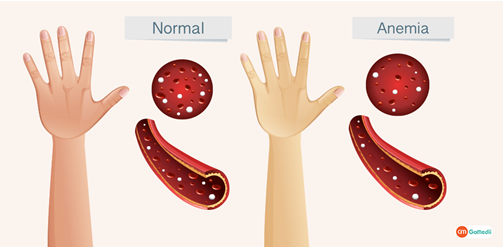 What is Anaemia?
The WHO defines anaemia as a condition where the number of red blood cells or the haemoglobin concentration within them is lower than normal.

This compromises immunity and impedes cognitive development.
Causes
Imbalanced diet: Cereal-centric diets, with relatively less consumption of iron-rich food groups like meat, fish, eggs, and dark green leafy vegetables (DGLF), can be associated with higher levels of anaemia.
Underlying factors: High levels of anaemia are also often associated with underlying factors like poor water quality and sanitation conditions that can adversely impact iron absorption in the body.
Iron deficiency is a major cause: A diet that does not contain enough iron, folic acid, or vitamin B12 is a common cause of anaemia.
Some other conditions: That may lead to anaemia include pregnancy, heavy periods, blood disorders or cancer, inherited disorders, and infectious diseases.
Why is it a concern?
Adverse effects of anaemia affect all age groups, lower physical and cognitive growth and alertness among children and adolescents, and lesser capacity to learn and play, directly impacting their future potential as productive citizens.
Anaemia among adolescent girls (59.1 per cent) advances to maternal anaemiaand is a major cause of maternal and infant mortality and general morbidity and ill health in a community.
About National Family Health Survey (NFHS)
The NFHS is a large-scale, multi-round survey conducted in a representative sample of households throughout India.
The Ministry of Health and Family Welfare (MoHFW) has designated the International Institute for Population Sciences (IIPS) Mumbai, as the nodal agency for providing coordination and technical guidance for the survey.

IIPS collaborates with a number of Field Organizations (FO) for survey implementation.

Each successive round of the NFHS has had two specific goals-

To provide essential data on health and family welfare needed by the Ministry of Health and Family Welfare and other agencies for policy and programme purposes.
To provide information on important emerging health and family welfare issues.