President launches 'herSTART' Platform
Context
Recently, the President of India launched 'herSTART' - a start-up platform of Gujarat University for women entrepreneurs.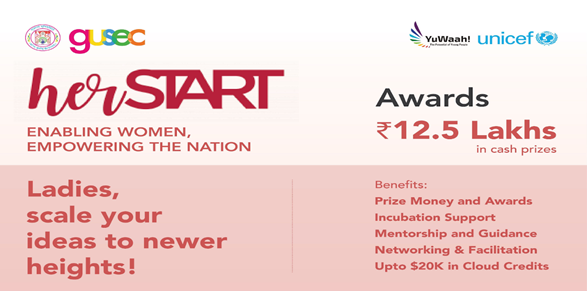 About
herSTART is an initiative implemented by the Gujarat University Startup and Entrepreneurship Council (GUSEC).
It is supported by the state government of Gujarat, the Central Government and the United Nations International Children's Emergency Fund (UNICEF).
The purpose of herSTART is to aid women-led startups to scale up.

It will connect women-led startups with private and government platforms.

It provides free online resources and training modules to aspiring women entrepreneurs in addition to a digital community and digital publication showcasing their success stories.
It includes the herSTART Incubator (a startup incubator focusing specifically on women entrepreneurs and innovators) as well as herSTART Accelerator (a round-the-year accelerator programme for high-impact women-led startups).
The purpose of this initiative is to boost women-led innovation and the startup ecosystem in the country.
These initiatives have significantly eased women entrepreneurs' journey towards success.