ADIP Scheme
Assistance to Disabled persons for purchasing/fitting of aids/appliances (ADIP) scheme comes under the Ministry of Social Justice & Empowerment.
It aims to assist the needy disabled persons in procuring durable and scientifically manufactured appliances.
ADIP can promote physical, social and psychological rehabilitation of differently abled by reducing the effects of disabilities and enhance their economic potential.
It is implemented through NGOs, National Institutes under the Ministry of Social Justice & Empowerment and ALIMCO (a PSU that manufactures artificial limbs).
Eligibility for ADIP scheme are as follows

Any Indian citizen with 40% disability or more
Monthly income not more than Rs.20000
Must not have received assistance during the last 3 years and for children its last 1 year.

The following agencies would be eligible to implement the Scheme on behalf of Ministry of Social Justice and Empowerment,

Societies, registered under the Societies Registration Act, 1860 and their branches, if any, separately.
Registered charitable trusts
District Rural Development Agencies,
Indian Red Cross Societies
Autonomous Bodies headed by District Collector/Chief Executive Officer/District Development Officer of Zilla Parishad.
National/Apex Institutes functioning under Ministry of Social Justice and Empowerment/Ministry of Health and Family Welfare.
State Handicapped Development Corporations.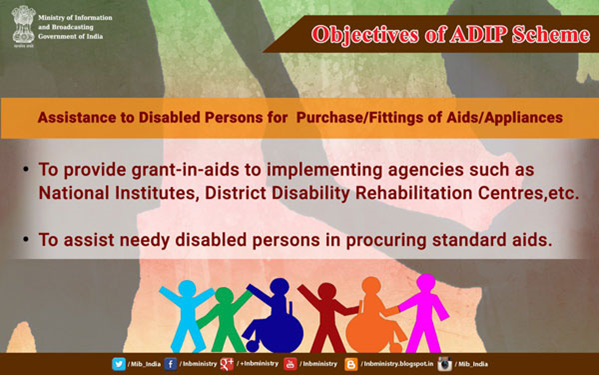 Verifying, please be patient.