Centre extended the Pradhan Mantri Garib Kalyan Anna Yojana (PMGKAY)
Context:
The Union government has extended the Pradhan Mantri Garib Kalyan Anna Yojana (PMGKAY) for another three months from October 1.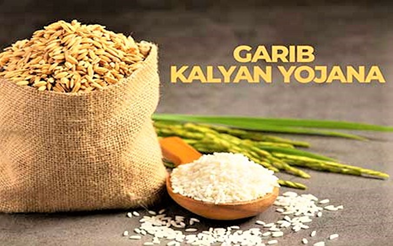 What is PMGKAY?
PMGKAY is a food security welfare scheme announced by the GoI in March 2020, during the COVID-19 pandemic in India.
The program is operated by the Department of Food and Public Distribution under the Ministry of Consumer Affairs, Food and Public Distribution.
The scale of this welfare scheme makes it the largest food security program in the world.
Targets of the scheme
To feed the poorest citizens of India by providing grain through the Public Distribution System to all the priority households (ration card holders and those identified by the Antyodaya Anna Yojana scheme).
PMGKAY provides 5 kg of rice or wheat (according to regional dietary preferences) per person/month and 1 kg of dal to each family holding a ration card.
At what rate are food grains provided under the NFSA?
NFSA beneficiaries are entitled to receive food grains at highly subsidised rates.
Under the food law, rice is provided at Rs.3 per kg, wheat at Rs.2 per kg, and coarse grains at Re 1 per kg.
Why was such a scheme needed?
The devastation by pandemic has increased manifold in the second wave resulting in localized restrictions and lockdowns from the States.
This resulted in massive jobs losses in urban areas since the largest employers being construction and hospitality sectors have been completely shut down.
The virus penetrated deeper in the countryside in rural areas, halting almost every source of livelihood.
These areas are such where 60% of the income was earned from non-pharm activities. This resulted in livelihood losses of a large section of the population.