Ranipur TR: 4th Tiger Reserve in UP
Context:
The UP cabinet approved the notification of Ranipur Tiger Reserve under Section 38(v) of the Wild life (Protection) Act of 1972.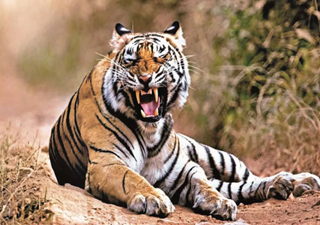 About Ranipur WS
Ranipur WS, was founded in 1977, is one of the attractions of Chitrakoot district in Uttar Pradesh.
It is spread over 230 sq. km and is noted for its diverse wildlife, but is not very frequently visited by tourists because of the difficult access.
The Ranipur TR has tropical dry deciduous forests and is home to fauna such as tigers, leopards, sloth bears, spotted deer, sambhar, chinkara and a number of birds and reptiles, the statement added.
The Ranipur TR will be the fourth in UP, after Dudhwa, Pilibhit and Amangarh (buffer of Corbett Tiger Reserve).
It will also be the first in the state's portion of the Bundelkhand region, which it shares with neighbouring Madhya Pradesh.
Why make it a tiger reserve?
RWS has no tigers of its own.
But pugmarks of the animals are frequently seen there as tigers from nearby Panna frequent it.