Chilika has 22% of India's sea grass area: Survey
Context
During the flora and fauna monitoring of Chilika, five species of sea grasses were reported which is about 22% of India's sea grass area.
The Survey
The annual survey was conducted by 'Transact Survey Method' followed worldwide for population of aquatic mammals.

The following seagrass species were recorded during the survey:

Holodule uninervis
Holodule pinifolia
Halophila ovalis
Halophila ovata
Halophila beccarii

This occurs over an area of 155 sq. km., an increase from 152 sq. km. of last year.
Seagrasses are the

flowering plants which

grow in

marine

The name seagrass stems from the many species with long and narrow leaves, which grow by rhizome extension.
Seagrasses photosynthesize, in the submerged photic zone, and most occur in shallow and sheltered coastal waters anchored in sand or mud bottoms.
They function as important carbon sinks and provide habitats and food for a diversity of marine life comparable to that of coral reefs.
Other key-highlights of the Survey
Around 156 endangered Irrawaddy dolphins were spotted in Chilika.
A total of 12,42,000 birds of 105 water bird species, and 26,405 birds of 76 wetland dependent species, were counted from the entire lagoon.
Irrawaddy dolphins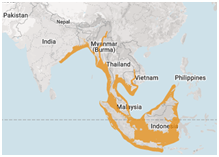 Irrawaddy dolphins are protected under the Wildlife (Protection) Act 1972.
It is enlisted in the endangered list of IUCN conservation.
It is not a true

river dolphin, but an oceanic dolphin that lives in brackish water near coasts, river mouths, and estuaries.

It is found in Bangladesh, India, Cambodia, Indonesia, Philippines, Burma and Thailand.
Irrawaddy dolphins are more susceptible to human conflict than most other dolphins that live farther out in the ocean.
Chilika Lake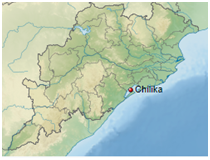 Chilika Lake is a

brackish waterlagoon, spread over the Puri, Khurda and Ganjam districts of Odisha state on the east coast of India.

It is situated at the mouth of the Daya River, flowing into the

Bay of Bengal.

It is the largest coastal lagoon in India.
Chilika is Asia's largest brackish water lagoon.
Chilika is considered to have highest single lagoonal population of the aquatic mammal in the world.
It has been listed as a tentative

UNESCOWorld Heritage

The

Irrawaddy dolphinis the flagship species of Chilika lake.

Chilika is home to the only known population of Irrawaddy dolphins in Indiaand one of only two lagoons in the world that are home to this species.