Context
Indian National Centre for Ocean Information Services (INCOIS) is planning to take the help of the National Remote Sensing Centre (NRSC) for airline mapping of Andaman and Nicobar Islands and Lakshwadeep to get a better picture of the ocean floor using Airborne Laser Terrain Mapping, also called 'bathymetric' study.
Airborne Laser Terrain Mapping
Detailed topographic maps of very high accuracy are produced by airborne laser terrain mapping

Airborne laser data can be used to accurately measure the topography of the ground (here ocean floor), even where overlying vegetation is quite dense.
The method relies on measuring the distance from an airplane, or helicopter, to the Earth's surface by precisely timing the round-trip travel time of a brief pulse of laser light.
The travel-time is measured from the time the laser pulse is fired to the time laser light is reflected back from the surface
The technology used currently is popularly known as Lidar (Light detection and ranging)
Oceanic Landforms
Landforms under the ocean are:



continental shelf
continental slope
continental rise
abyssal plain
mid-ocean ridge
rift zone
trench
seamount/guyot
Landform comparison
| | |
| --- | --- |
| Continental Landforms | Oceanic Landforms |
| Valley | Rift |
| Canyon | Trench |
| Mountain Range | Mid-Ocean Ridge |
| Plains | Abyssal Plain |
| Volcano | Seamounts (Guyot) |
The need of Bathymetric study
Bathymetric Study has become imperative in view of the recent tsunamis of the Indonesian coasts where more than the quake related high waves, damage was due to landslides that had under the sea beds causing sudden wave surge leading to much damage without giving sufficient time to alert people.
Other Airborne Laser Terrain Mapping Projects by NRSC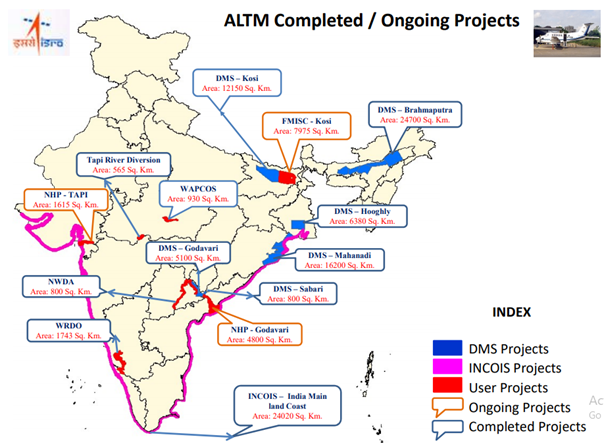 Organizations
Indian National Centre for Ocean Information Services (INCOIS)
An autonomous organisation under Ministry of Earth Sciences
Mandated to provide the best possible ocean information and advisory services to society, industry, government agencies and the scientific community through sustained ocean observations and constant improvements through systematic and focussed research.
National Remote Sensing Centre (NRSC)
NRSC is one of the primary centres of Indian Space Research Organisation (ISRO)
Mandate for establishment of ground stations for receiving satellite data, generation of data products, dissemination to the users, development of techniques for remote sensing applications including disaster management support, geospatial services for good governance and capacity building for professionals, faculty and students.