India Successfully tests indigenously developed nuclear capable Prithvi II missile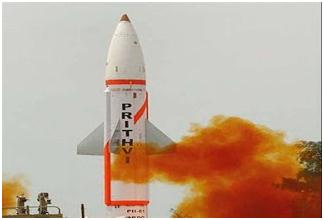 India recently conducted a successful night trial of indigenously developed nuclear capable Prithvi II missile.
The test was conducted at the Integrated Test Range, Balasore, Odisha.
Prithvi II is a surface-to-surface missile.
The first trial of Prithvi II was conducted in September 2020.
The launch was conducted by the Strategic Force Command.
The complete trial of the missile was monitored by Defence Research Development Organization.
The missile has a range of 25-350 kilometers.
It is capable of carrying 500 kg to 1000 kg of Nuclear material.
It is powered by Liquid Propulsion Single Engine and is a single stage missile.
It uses advanced inertial guidance system. It was first inducted into the Indian Defence System in 2003.
India has set an ambitious target of producing Rs 1.75 trillion (25 billion USD) worth defence products by 2025 Of this the export target has been set to Rs 35,000 crores.
India is the second largest importer of defence equipment according to the Stockholm International Peace Research Institute (SIPRI). SIPRI report also says that Russia is the largest supplier of defence goods to India though defence imports from Russia has decreased from 72% to 56%.