Nilgiri Elephant coridor
Supreme Court (SC) upholds the Madras High Court's 2011 order on the Nilgiris elephant corridor
SC affirmed the right of passage of the animals and the closure of resorts in the area.
In 2011, the Madras HC had upheld the validity of the Tamil Nadu government's notification (of 2010) declaring an 'Elephant Corridor' in the Sigur Plateau of Nilgiris District.
According to SC, it's the State's duty to protect a "keystone species" like elephants, which are immensely important to the environment.
Elephant corridors allow elephants to continue their nomadic mode of survival, despite shrinking forest cover, by facilitating travel between distinct forest habitats.
These corridors play a crucial role in sustaining wildlife by reducing the impact of habitat isolation.
The SC opined that the area is a fragile ecosystem, where the will of men must give way to elephants.
The court has also allowed the formation of a committee led by a retired HC judge and two other persons to hear the individual objections of resort owners and private landowners within the corridor space.
Nilgiris Elephant Corridor

It is situated in the ecologically fragile Sigur plateau.
It connects the Western and the Eastern Ghats.
It is situated near the Mudumalai National Park in the Nilgiris district.
It also has the Nilgiri hills on its southwestern side and the Moyar river valley on its northeastern side.
There are about 100 elephant corridors in India of which almost 70% are used regularly.
75% of the corridors are in the southern, central and north-eastern forests.
There are an estimated 6,500 elephants in just the Brahmagiri-Nilgiris-Eastern Ghats ranges.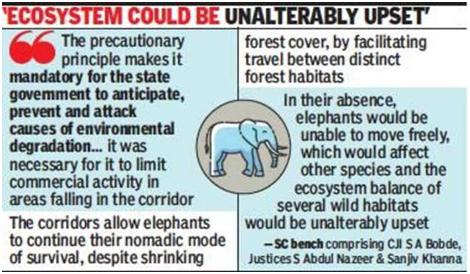 Verifying, please be patient.