Solar photovoltaics (PV) in India
Context
India has added significant photovoltaics capacity over the past decade, achieving over 50 GW by 2022.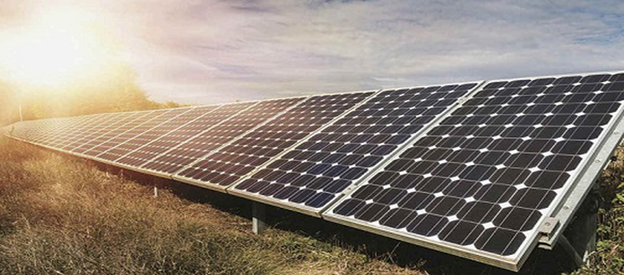 About
Solar photovoltaics (PV) has driven India's push towards the adoption of cleaner energy generation technologies.
India's Journey: From less than 10 MW in 2010, India has achieved PV capacity over 50 GW by 2022.

By 2030, India is targeting about 500 GW of renewable energy deployment, out of which ~280 GW is expected from solar PV.
This necessitates the deployment of nearly 30 GW of solar capacity every year until 2030.
India's Solar Module Manufacturing Capacity
Currently it is limited to ~15 GW per year.
The demand-supply gap widens as we move up the value chain — for example, India only produces ~3.5 GW of cells currently.
India has no manufacturing capacity for solar wafers and polysilicon ingots, and currently imports 100% of silicon wafers and around 80% of cells even at the current deployment levels.
India remains dependent on import of solar modules for field deployment.
Key components solar PV value chain
Fabricating polysilicon ingots which need to be transformed into thin Silicon wafers that are needed to manufacture the PV mini-modules.
The mini-modules are then assembled into market-ready and field-deployable modules.
Current Government Policy
The government has identified this gap, and is rolling out various policy initiatives to push and motivate the industry to work towards self-reliance in solar manufacturing, both for cells and modules.
Key initiatives include a 40% duty on the import of modules and 25% duty on the import of cells, and a PLI scheme to support manufacturing capex.
It is mandatory to procure modules only from an approved list of manufacturers (ALMM) for projects that are connected to state/ central government grids; so far, only India-based manufacturers have been approved.
Major Initiative in Renewable Energy Sector
National Solar Mission (NSM): In January 2010, the NSM was launched with the objective of establishing India as a global leader in solar energy, by creating the policy conditions for solar technology diffusion across the country.

The initial target of NSM was to install 20 GW solar power by 2022. This was up-scaled to 100 GW in early 2015.

Pradhan Mantri Kisan Urja Suraksha evam Utthaan Mahabhiyan (PM-KUSUM): It was launched in 2019 and it aims to help farmers access reliable day-time solar power for irrigation, reduce power subsidies, and decarbonise agriculture.

PM-KUSUM provides farmers with incentives to install solar power pumps and plants in their fields.

Atal Jyoti Yojana (AJAY) Phase-II: A Scheme for the installation of solar street lights with 25% fund contribution from MPLAD Funds was discontinued from 1 April 2020 as the Government decided to suspend the MPLAD Funds for the next two years i.e. 2020-21 and 2021-22.

However, the installation of 1.5 lakh solar street lights sanctioned under the scheme till March 2020 was under progress.

Solar Parks Scheme: To facilitate large scale grid-connected solar power projects, a scheme is under implementation with a target capacity of 40 GW capacity by March 2022.

Solar parks provide solar power developers with a plug and play model, by facilitating necessary infrastructure like land, power evacuation facilities, road connectivity, water facility etc. along with all statutory clearances.