Tetrapods protects Kerala's Chellanam Village
Context
A new gigantic seawall protecting the long-suffering Chellanam village in Kerala.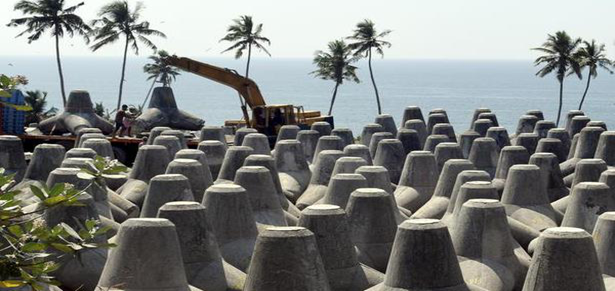 Key-points
Over the past few years, Chellanam, an idyllic coastal village in Kerala's Ernakulam district, would unfailingly hit the headlines during the monsoons for massive sea incursion and widespread destruction of homes.

However, this monsoon, despite heavy spells of rain lashing Ernakulam district from May, Chellanam has remained largely unaffected thanks to the construction of a new tetrapod-based seawall.
What are tetrapods?
Tetra pod in Greek means four-legged.
These are four-legged concrete structures that are placed along coastlines to prevent erosion and water damage.
Tetrapods were first used in France in the late 1940s to protect the shore from the sea.
They are typically placed together to form an interlocking but porous barrier that dissipates the power of waves and currents.
These are large structures, sometimes weighing up to 10 tonnes, and interlocked tetrapods act as a barrier that remains stable against the rocks when buffeted by waves.
Benefits
The conventional seawall of Chellanam failed to check sea ingress which resulted in massive ruin and destruction.
Now, due to the tetrapod-based seawall, stretches that were most vulnerable to sea erosion have remained by and large safe.
Other solution: Beach nourishment (reducing the depth of the sea along the shore) offers a permanent solution.