77th anniversary of the formation of Azad Hind Government on 21st October, 2020.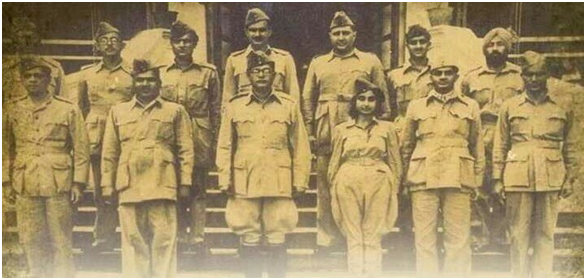 NetajiSubhash Chandra Bose had announced the establishment of the provisional government of Azad Hind in occupied Singapore in 1943.
Known as ArziHukumat-e-Azad Hind,it was supported by the Axis powers of Imperial Japan, Nazi Germany, the Italian Social Republic, and their allies.
The provisional government was also formed in the Japanese-occupied Andaman and Nicobar Islands.
The islands were re-occupied by the British in 1945.
Bose was convinced that armedstruggle was the only way to achieve independence for India.It drew ex- prisoners and thousands of civilian volunteers from the Indian expatriate population in Malaya (present-day Malaysia) and Burma (now Myanmar).
The Azad Hind government had its own court, civil code and currency.
Its provisional capital was Port Blair, while its capital-in-exile was Rangoon and Singapore.
Under the provisional government:Bosewas the head of the state, the prime minister and the minister for war and foreign affairsCaptain Lakshmi headed the women's organization.
S A Ayerheaded the publicity and propaganda wing.
Rash Behari Bosewas designated as the supreme advisor. Bose's death was seen as the end to the Azad Hind movement.
The Second World War, also ended in 1945 with the defeat of the Axis powers.