AditiUrjaSanch inaugurated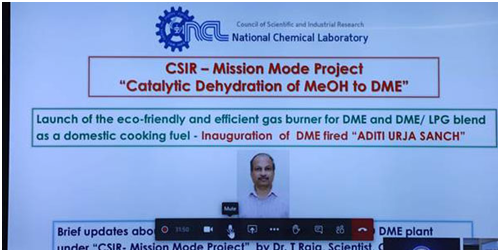 The Union Minister of Science and Technology and Earth Sciences recently inaugurated the Dimethyl ether (DME) fired "AditiUrjaSanch" unit along with the DME-LPG blended fuel cylinders.
It is a newly designed Burner.
The new design is efficient for both DME and the blend of DME and LPG.
Novel design and flexible air access.
The new nozzle design allows optimum oxygen access for combustion.
The angles at which nozzles are placed maximize the heat transfer area across the utensils.
Optimum flame velocity can be obtained.
The length of the flame (high, low, and medium) can be adjusted by altering the oxygen ingress.
Dimethyl ether (DME) is an ultra-clean fuel.
CSIR-NCL has developed nation's first kind of DME pilot plant with 20-24Kg/day capacity.
The conventional LPG burner is not suitable for DME combustion as DME density is different than LPG.
To address this issue, CSIR- NCL's "AditiUrjaSanch" was developed.