Context
Recently, eight of the 11 Congress MLAs in the Goa Assembly defected to the Bharatiya Janata Party (BJP).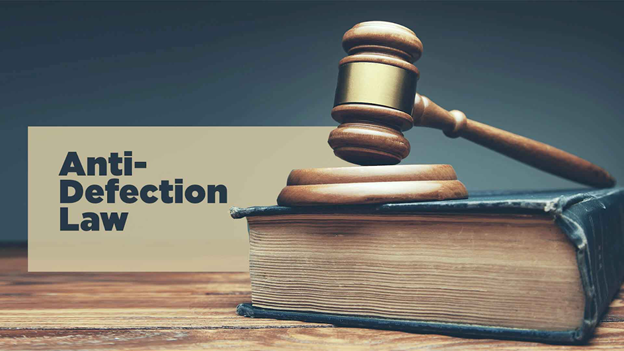 What is Anti-defection Law?
The Anti-Defection Law under the Tenth Schedule of the Constitution punishes MPs/ MLAs for defecting from their party by taking away their membership of the legislature.
Origin
Aaya Ram Gaya Ram was a phrase that became popular in Indian politics after a Haryana MLA Gaya Lal changed his party thrice within the same day in 1967.
The anti-defection law was a response to the similar toppling of multiple state governments by party-hopping MLAs.
Parliament added it to the Constitution in 1985.
It lays down the process by which legislators may be disqualified on grounds of defection.

It gives the Speaker of the legislature the power to decide the outcome of defection proceedings.
It was added to the Constitution through the Fifty-Second (Amendment) Act, 1985 when Rajiv Gandhi was PM.
The law applies to both Parliament and state assemblies.
Cases consider under the anti-defection law
Voluntarily giving up: The first is when a member elected on the ticket of a political party "voluntarily gives up" membership of such a party or votes in the House against the wishes of the party.

Such persons lose his seats.

Independent members: The second scenario arises when an MP/MLA who has been elected as an independent joins a party later.
Nominated legislators: The law specifies that nominated legislators can join a political party within six months of being appointed to the House, and not after such time.

Violation of the law in any of these scenarios can lead to a legislator being penalised for defection.
International scenario on Anti Defection Law
Bangladesh: Article 70 of the Bangladesh Constitution says a member shall vacate his seat if he resigns from or votes against the directions given by his party.

The dispute is referred by the Speaker to the Election Commission.

Kenya: Section 40 of the Kenyan Constitution states that a member who resigns from his party has to vacate his seat.

The decision is by the Speaker, and the member may appeal to the High Court.

Singapore: Article 46 of the Singapore Constitution says a member must vacate his seat if he resigns, or is expelled from his party.

Article 48 states that Parliament decides on any question relating to the disqualification of a member.

South Africa: Section 47 of the South African Constitution provides that a member loses membership of the Parliament if he ceases to be a member of the party that nominated him.