Ayushman Sahakar Scheme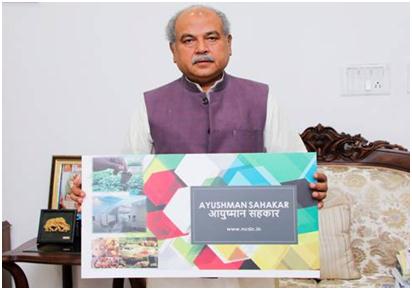 Union Agriculture Minister Narendra Singh Tomar launched the Ayushman Sahakar Scheme.
The scheme will assist the cooperatives to play a crucial role in creating health care infrastructure in the country.
The scheme was formulated by the National Cooperative Development Corporation.
The NCDC will provide loans of Rs 10,000 crores to the cooperatives under the scheme. This includes financial assistance and working capital to meet operational requirements in health sector.
The scheme also provides 1% interest subvention to the cooperatives where women are in majority.
The scheme is aligned with that of the National Health Policy, 2017.
The scheme will provide funds to assist cooperative hospitals. It will also cover health insurance, medical, nursing education and paramedical education.
Also, the scheme includes health systems such as AYUSH.
It operates under Ministry of Agriculture and Family Welfare.
It plans, promotes and finances programmes that are related to storage, processing, marketing, import and export of agricultural produce. It finances projects in rural industrial cooperative sectors.
The funding of NCDC comes through allocation by GoI, international assistance and market borrowings.
Verifying, please be patient.