Introduction
As the two biggest militaries and the nuclear nations are engaged in military faceoff along the border, the military strength of both the Asian nations have come into focus.
This year, the armies of both nations saw a bloody clash recently leaving 20 Indian soldiers dead.
Despite good economic and trade ties, multiple issues continue to impact India and China's relations.
Both countries continue to establish military infrastructure along the Line of Actual Control (LAC).
When compared to the Indian Army, Chinese Army holds a huge inventory of weapons and hardware in most of the categories except tanks.
On the other hand, the Indian Army's combat experience in high-altitude battles and the acquisition of advanced armament from Russia and the United States, make it strong to resist potential threats from China.
In the ongoing situation, it is important to compare the capabilities of Indian and Chinese armies amid the current border tensions between the two countries.
The brief examines the state and development of China's cruise missile capabilities, specifically that of its air-launched and ground-launched missile forces.
How was the origin of cruise missile in China?
The origins of China's cruise missile capabilities go back to the Cold War.
However, it was only after the collapse of the Soviet Union that China started receiving assistance from the Russian Federation.
The Soviet successor needed currency and at that time, China had money to spend for Russian assistance in the cruise missile sector.
A number of Chinese cruise missiles are derivatives of Russian designs. Today, China has moved towards greater indigenisation.
Cruise Missiles
Cruise missiles have high pre-launch survivability as well as mobility advantages.
A cruise missile is an unpiloted projectile that comes with autonomous guidance. It flies like an airplane, making it an air-breathing system and is assisted by aerodynamic surfaces.
Cruise missiles need guidance for only a part of their flight, thereafter, the missile goes through a free-fall trajectory, which is determined exclusively by the local gravitational field.
Cruise missiles, however, require continuous guidance. They could have on-board guidance as well as be externally guided with the help of satellites or a combination of both.
They are easily deployable. There are subsonic as well as supersonic variants.
For long-range cruise missiles, satellite guidance is also important for precision attacks.
Land Attack Cruise Missiles (LACM) can also help defeat enemy missile defences because they are hard to detect.

LACMs are more effective than ballistic missiles in striking point targets such as command nodes and static facilities such as bases
What are Cruise Missiles and their Relevance for China?
Controlled by: The People's Liberation Army Rocket Force (PLARF) controls and operates Chinese ballistic and cruise missile brigades.
These missiles are not as vulnerable to counterforce targeting by the adversary and can be launched from a wide variety of mobile and fixed platforms.
Cruise missiles can serve as a credible deterrent as well as contribute to offensive action, coupled with stand-off ranges at which cruise missiles can be launched from aerial platforms such as long-range bombers and fighter aircraft.
Given these advantages of cruise missiles, it is unsurprising why any major state power would not want to invest in these capabilities, including China.
Cruise missiles, in one analyst's description, are the "poor man's" air force, in that they are relatively inexpensive weapons and means of striking enemy targets contributing to the offensive strike capabilities of a state.
While fighter aircraft can perform a similar role, they have to penetrate enemy air defences, which put them at risk to the adversary' aerial interception and Surface to Air Missiles (SAMs).

Both fighter aircraft and cruise missiles are capable of offensive missions, but the losses incurred by the former are likely to be costlier. Fighter aircraft are expensive platforms.

However, cruise missiles can be delivered from fighter aircraft without the latter entering enemy airspace (as will be shown below)—this increases their range and lethality at least over short to medium distances.
What are China's Ground-Based Land Attack Cruise Missile (LACM) Capabilities?
Hong Niao (HN) series
It has three types of short- to intermediate-range cruise missiles as part of the Hong Niao (HN) series.

These missiles are HN-1, HN-2 and HN-3

The ground-launched version of the missile comes in the form of HN-1A and HN-1B with a range of 600 kilometres and 650 km, respectively.
These two missiles are launched from a Transporter Erector Launcher (TEL). Each of the TELs are capable of carrying three missiles.
With a speed of Mach 0.8can deliver a conventional payload consisting of a 400 kilogram High Explosive (HE) warhead and a 20-90 kiloton (KT) nuclear warhead.
| | |
| --- | --- |
| Missile Name | Hong Niao Series |
| Class | Subsonic cruise missile |
| Basing | Ground/ship/air/submarine-launched |
| Length | 6.4 metres (7.2 with boost motor) |
| Diameter | 0.5 metres |
| Launch Weight | 1,200 kilograms |
| Payload | Single Warhead |
| Warhead | 400 kilogram High Explosive, submunitions, 20-90 Kiloton Nuclear warhead |
| Propulsion | Turbojet (HN-1), Turbofan (HN-2/-3) |
| Range | 600-650 kilometres |
| Status | Operational |
YJ-18
In addition to the HN series, China fields the ground-launched version of the YJ-18, which is a ship-based missile, but has been adapted to launch from mobile ground platforms.
The ground-based variant is launched from a multi-wheeled truck capable of delivering a 140-300 kg HE warhead with a cruising speed of Mach 0.8.
It has a terminal speed of 2.5-3.0 Mach and a striking range of 220-540 km.
The missile is guided by satellite navigation and radar. This missile has been operational since 2014.
| | |
| --- | --- |
| Name | YJ-18 also known as CH-SS-NX-13 |
| Class | Cruise |
| Basing | Ship, submarine, and mobile ground vehicle |
| Length | <8.2 metres (inc. booster) |
| Diameter | 0.514 metres |
| Launch Weight | <1,579 kilograms |
| Payload | 140-300 kilograms |
| Warhead | High-explosive or antiradiation |
| Speed | Mach 0.8 (cruising), Mach 2.5-3.0 |
| Guidance | Satellite navigation and radar guidance |
| Range | 220-540 kilometres |
| Status | Operational since 2014 |
CJ-10
The PLARF also operates the CJ-10, which is a long-range surface-to-surface cruise missile, making it a potent precision-strike weapon.
| | |
| --- | --- |
| Name | Changjian (CJ-10), or DH-10/DF-10 (LACM) |
| Length | 6.4 metres |
| Diameter | 0.7 metres |
| Warhead | Single High Explosive/Nuclear warhead |
| Launch Platform | Mobile Multi-Wheeled Truck Launched |
| Range | 1,500 km+ |
| Propellent | Turbofan |
| Type | LACM (CJ-10) and ALCM (CJ-10K) |
| Status | Deployed |
What are China's Air-Launched Land Attack Cruise Missiles Capability?
An ALCM has enormous utility in the initial stages of a conflict and is likely to be used in armed conflict, as it can eliminate the enemy's air defences as well as air bases. It can also be delivered at substantial standoff ranges.
The PLAAF is only a recent entrant into the club of countries capable of long-range bomber operations.
The only two other states with significantly greater experience are the United States and the Russian Federation.
The PLAAF's KD-20, also known as CJ-20 ALCM missile, is geared for striking land targets. It is an air-launched land attack cruise missile with a range of 1500 km.
| | |
| --- | --- |
| Missile Name | Changjian-20 (CJ-20) |
| Mobility and Role | Air-Launched/Land-Attack Cruise Missile |
| Range | 2000+ kilometres |
| Warhead Type and Weight | Conventional/Nuclear |
| MIRV and Yield | No MIRV and Yield unknown |
| Guidance System/Accuracy | Inertial/GPS, Radar Terminal Correlation |
| Stages/Propellant | Two/Solid |
| Status | Under Development |
Where does India lack?
Short in long-range offensive air power: Around the vicinity of the LAC, the Indian Air Force is likely to fair well against the PLAAF, however, the former is short in long-range offensive air power.
Short in heavy, long-range bombers: Absent in the IAF inventory are heavy, long-range bombers which are capable of delivering ALCMs over extended distances against land-based targets.
Short in deep-penetration missiles: At present, India lacks deep-penetration and long-range, precision-strike cruise missile capability against the PRC.
What are the implications for India?
China's BeiDou constellation of satellites most likely provide vital navigation and guidance data for the People's Liberation Army Rocket Forces (PLARF), which has a mixture of conventional and nuclear-tipped ballistic and cruise missiles.
The PLARF is not fettered by No-First-Use (NFU) conventional cruise missile strikes.
In any case, missile guidance is most effective when it derives information from multiple sources, including satellites and inertial navigation.
The CJ-20 is guided by satellites, as well as an inertial guidance system, giving it precision-strike capability.
It is unlikely the CJ-20 represents a significant threat to airborne targets such as fighter jets.
A diverse cruise missile force, both for deterrence, and in the event deterrence collapses—offensive action—gives Indian decision-makers more options.
Although there are few countermeasures against cruise missile strikes. Among the most important defensive measures are dispersion of missile assets, concealment, and use of civilian airports to transport missile assets.
India's Long-Range Cruise Missile
| | |
| --- | --- |
| Missile Name | Nirbhay |
| Class | Subsonic Cruise Missile |
| Length | 6.0 metres |
| Diameter | 0.5 metres |
| Launch Weight | 1,500-1,600 kilograms |
| Platform | Mobile articulated Launcher |
| Warhead | High Explosive, submunitions, potentially 12 Kiloton nuclear explosive |
| Propulsion | Tubojet |
| Range | 800-1000 kilometres |
| Status | Under Development |
India's Short-Range Cruise Missiles
| | |
| --- | --- |
| Missile Name | BrahMos |
| Class | Supersonic Cruise Missile |
| Length | 8-8.2 metres |
| Diameter | 0.67 metres |
| Launch Weight | 2,200-3,000 |
| Warhead/Payload | 200-300 kilograms |
| Propulsion | Liquid-Fuelled ramjet |
| Range | 300-500 kilometres/ Export 290 kilometres |
| Status | Operational |
| Basing | Ground Launched, Air-Launched, Ship-Launched and Submarine-Launched |
Why knowing about China's capabilities are important for India?
It is important to know that to what extent China's cruise missile capabilities threaten the Indian Army (IA) and the Indian Air Force's (IAF) ground and air assets.
It is not only relevant in the wake of the current stand-off between the two countries along the Line of Actual Control (LAC), but is equally important for defence planning in the medium- to long-term.
The cruise missile segment of China's missile capabilities is highly advanced.
Chinese cruise missiles pose a threat to India's forward deployed forces across the LAC.
However, beyond the vicinity of the LAC, the People's Liberation Army (PLA) and its sister service, the People's Liberation Army Air Force (PLAAF), wield capabilities to target Indian Command and Control Headquarters (HQ), air base bunkers and ground bases in the Indian rear, or deployments in forward locations.
India, too, will need to exploit China's vulnerabilities, particularly in the Tibet Autonomous Region (TAR); both Air-Launched Cruise Missiles (ALCMs) and Ground-Launched Cruise Missiles (GLCMs) are likely to be used extensively in a Sino-Indian boundary war.
Significant differences between China and India
Defence expenditure and personnel:

According

to the Stockholm International Peace Research Institute (SIPRI), in 2019, China's defence budget was $261 billion, while the corresponding figure for India was $71.1 billion. These are the second- and third-highest military spends in the world.

In terms of manpower, China

has

21,83,000 active personnel and 510,000 reserve troops, while India

has

14,44,000 and 21,00,000, according to Global Firepower.

Resources on land: In the realm of military resources on land, China

possesses

3,500 tanks, 33,000 armoured vehicles, 3,800 self-propelled artillery, 3,600 towed artillery, and 2,650 rocket projectors.

India, meanwhile, has 4,292 tanks, 8,686 armoured vehicles, 235 self-propelled artillery, 4,060 towed artillery and 266 rocket projectors.

Air power: China's total air fleet

stands

at 3,444, and includes 1,232 fighter jets, 371 dedicated attack crafts, 224 for transport, 314 trainers, 111 for special missions, 911 helicopters, and 281 attack helicopters.

The Indian air fleet has a strength of 2,141, including 538 fighter jets, 172 dedicated attack crafts, 250 for transport, 359 trainers, 77 for special missions, 722 helicopters, and 23 attack helicopters.

Naval forces: China currently has two aircraft carriers, 36 destroyers, 52 frigates, 50 corvettes, 74 submarines, 220 patrol vessels, and 29 crafts for mine warfare.

The Indian fleet, meanwhile, consists of one aircraft carrier, 10 destroyers, 13 frigates, 19 corvettes, 16 submarines, 139 patrol vessels, and three crafts for mine warfare.

Nuclear warheads: According to SIPRI's 2020 Yearbook, the Chinese nuclear arsenal

currently

stands at 320, while India has 150 weapons.
In 2020, China owned the largest agile military force in the world, bearing about 2.18 million agile troops. On the other hand, India along with the United States, North Korea, and Russia, orbited out the top five countries with the most massive actively participating military forces.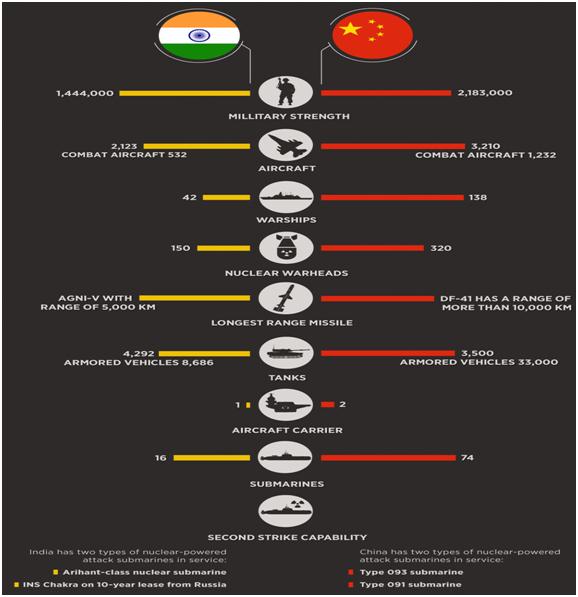 What India needs to do?
Consequently, India has to invest more in long-range cruise missiles – both its land attack and air-launched variants.
China's ALCM capabilities serve both as a potent deterrent and a force multiplier. India will need to come up with a countervailing ALCM capability.
India should acquire ALCM capabilities, at least in limited numbers, to introduce more diversity in its cruise missile forces and expose a wider array of Chinese targets to strikes.
Closure
The present crisis, which is the most serious between both the countries since the 1962 war, has already demonstrated the burden for India. In case, the crisis ends up peacefully through diplomatic means, termination of future crisis will terminate or not, is not guaranteed. After all, diversified capabilities help increase survivability in the event of war, and cruise missiles must remain an important arrow in India's quiver.