Introduction
The recently convened COP26, which was held in Glasgow, Scotland, brought together representatives of 197 member countries to set this century's global climate goals.
India, as a nation, representing 17.7 per cent of the world's population, certainly holds an accolade in the discourse of climate change.
Prime Minister Narendra Modi eloquently summarised the 'Panchamrit solution' at COP26 to be fulfilled by India in times to come.
By the end of COP26, 151 countrieshad submitted new climate plans (known as nationally determined contributions, or NDCs) to slash their emissions by 2030.
Beyond the Glasgow Climate Pact, countries also made bold collective commitments to curb methane emissions, to halt and reverse forest loss, align the finance sector with net-zero by 2050, ditch the internal combustion engine, accelerate the phase-out of coal, and end international financing for fossil fuels, to name just a few.
The tale of Climate Change
The rapid climate change the world is now seeing is caused by humans using oil, gas and coal for their homes, factories and transport.
When these fossil fuels burn, they release greenhouse gases - mostly carbon dioxide (CO2). These gases trap the Sun's heat and cause the planet's temperature to rise.
The world is now about 1.2C warmer than it was in the 19th Century - and the amount of CO2 in the atmosphere has risen by 50%.
Impacts:
Extreme weather conditions (frequent occurrence): Extreme weather events are already more intense, threatening lives and livelihoods.
Desertification: With further warming, some regions could become uninhabitable, as farmland turns into desert.
Flooding: In other regions, the opposite is happening, with extreme rainfall causing historic flooding - as seen recently in China, Germany, Belgium and the Netherlands.
The UK and Europe will be vulnerable to flooding caused by extreme rainfall
Countries in the Middle East will experience extreme heatwaves and farmland could turn to desert
Island nations in the Pacific region could disappear under rising seas
Many African nations are likely to suffer droughts and food shortages
Drought conditions are likely in the western US, while other areas will see more intense storms
Australia is likely to suffer extremes of heat and drought
Worsening condition: People in poorer countries will suffer the most as they do not have the money to adapt to climate change. Many farms in developing countries already have to endure climates that are too hot and this will only get worse.
Threat to marine ecosystem: Oceans and its habitats are also under threat.

The Great Barrier Reef in Australia, for example, has already lost half of its corals since 1995due to warmer seas driven by climate change.

Wildfires: Wildfires are becoming more frequentas climate change increases the risk of hot, dry weather.
Melting of ice: And as frozen ground melts in places like Siberia, greenhouse gases trapped for centuries will be released into the atmosphere, worsening climate change.
No food for animals: In a warmer world, animals will find it harder to find the food and water they need to live.
For example, polar bears could die out as the ice they rely on melts away, and elephants will struggle to find the 150-300 litres of water a day they need.
Scientists believe at least 550 species could be lost this centuryif action is not taken.
Climate is the average weather in a place over many years.
Climate change is a shift in those average conditions.
What is COP26?
This was the 26th COP summit, hosted in partnership between the UK and Italy.
The annual UN climate change conference. held in Glasgow from 1-12 November 2021 in the Scottish Event Campus (SEC) in Glasgow, UK, a year later than planned due to delays caused by the COVID pandemic.
What is COP?
COP stands for Conference of the Parties.
COP comes under the United Nations Climate Change Framework Convention (UNFCCC) which was formed in 1994.
The UNFCCC was established to work towards "stabilisation of greenhouse gas concentrations in the atmosphere."
COP members have been meeting every year since 1995 (COP1 was held in 1995 in Berlin).
It laid out a list of responsibilities for the member states which included-
Formulating measures to mitigate climate change.
Cooperating in preparing for adaptation to the impact of climate change.
Promoting education, training and public awareness related to climate change.
The summit was attended by the countries that signed the United Nations Framework Convention on Climate Change (UNFCCC).
The UNFCCC was adopted in 1992 at the Rio Earth Summit, which marked the beginning of the international community's first concerted effort to confront the problem of climate change.
Known also as the Rio Convention, the UNFCCC established a framework for action to stabilise concentrations of greenhouse gases in the earth's atmosphere.
The UNFCCC entered into force in 1994, and nearly all of the world's nations have now signed on.
It is the parent treaty of the 2015 Paris Agreement. It is also the parent treaty of the 1997 Kyoto Protocol.

COP26 is critical because it's the first moment when countries must set out more ambitious goals for ending their contribution to climate change under the Paris Agreement.
COP1 to COP25 (Timeline)
COP members have been meeting every year since 1995. The UNFCCC has 198 parties including India, China and the USA.
The first conference (COP1) was held in 1995 in Berlin.
COP3 was held in Kyoto, Japan, in 1997, the famous Kyoto Protocol was adopted.

It commits the member states to pursue limitation or reduction of greenhouse gas emissions.
It entered into force on 16 February 2005 and there are 192 Parties in the Kyoto Protocol.

1998 – 2006: Nine COPs with Little Progress to Be Made

1998: COP 4 Buenos Aires
1999: COP5, Bonn
2000: COP6, The Hague and (2nd part), Bonn
2001: COP7, Marrakech
2002: COP8, New Delhi

India hosted the eighth COP from October 23 to November 1, 2002 in New Delhi.
The conference laid out seven measures including, 'strengthening of technology transfer in all relevant sectors, including energy, transport and the promotion of technological advances through research and development and the strengthening of institutions for sustainable development.'

2003: COP9, Milan
2004: COP10, Buenos Aires
2005: COP11, Montreal
2006: COP12, Nairobi
It was 9 years almost lost, mainly employed in finalizing the details of the Kyoto Protocol, with a view to 2008.
COP21: One of the most important conferences, COP21 took place from November 30 to December 11, 2015, in Paris, France.

Member countries agreed to work together to 'limit global warming to well below 2, preferably to 1.5 degrees Celsius, compared to pre-industrial levels.'
What was agreed in COP26?
The agreement - although not legally binding - will set the global agenda on climate change for the next decade:
Global Methane Pledge: The United States and Europe led the biggest climate goal, the Global Methane Pledge, to bring down global methane levels significantly by 2030; this was signed by as many as 104 countries.

India: Despite being the third-largest methane emitter, India was not signatory.

Deforestation Pledge: More than 100 national leaders pledged to halt and reverse deforestation and land degradation by the end of the decade, underpinned by USD 19 billion in public and private funds to invest in protecting and restoring forests.

In 2020, the world lost 258,000 sq km of forest — an area larger than the United Kingdom, according to WRI's Global Forest Watch.

The agreement vastly expands a commitment made by 40 countries as part of the 2014 New York Declaration of Forests, and promises more resources.

India: India also was not part of the pledge to deforestation despite hosting the world's largest contiguous mangrove forest: the Sundarbans.

Emissions: It was agreed countries will meet next year to pledge further cuts to emissions of carbon dioxide (CO2) - a greenhouse gas which causes climate change. This is to try to keep temperature rises within 1.5C - which scientists say is required to prevent a "climate catastrophe". Current pledges, if met, will only limit global warming to about 2.4C.
Coal: For the first time at a COP conference, there was an explicit plan to reduce use of coal - which is responsible for 40% of annual CO2 emissions.

However, countries only agreed a weaker commitment to "phase down" rather than "phase out" coal after a late intervention by China and India.

Climate finance for developing countries: The agreement pledged to significantly increase money to help poor countries cope with the effects of climate change and make the switch to clean energy.

India requested the LMDC members to join hands with India to support the global initiatives it has pioneered, including the
International Solar Alliance (ISA)
Coalition for Disaster Resilient Infrastructure (CDRI)
Leadership Group for Industry Transition (LeadIT)

Fossil fuel subsidies: World leaders agreed to phase-out subsidies that artificially lower the price of coal, oil, or natural gas. However, no firm dates have been set.
India's Commitments at COP26 Glasgow- Key Commitments made by India
India is the world's fourth biggest emitter of carbon dioxide after China, the US and the EU.
India emitted 1.9 tonnes of CO2 per head of population in 2019, compared with 15.5 tonnes for the US and 12.5 tonnes for Russia that year.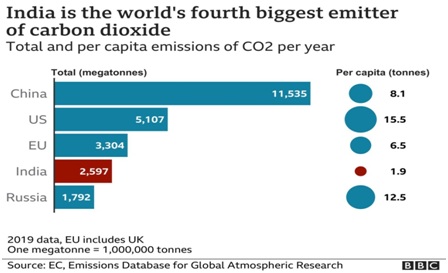 India called the COP26 summit a "success", saying it put across the concerns and ideas of the developing world quite "succinctly and unequivocally" in front of the world community.
India's Target by 2030:

India will ensure 50% of its energy will be sourced from renewable energy sources.

India

will reduce its carbon emissions by 2030 by a billion tonnes.
India will also reduce its emissions intensity per unit of GDP by less than 45%.
India would also install 500 Gigawatt of renewable energy by 2030, a 50 GW increase from its existing targets.

India's Target by 2070:

India will aim to achieve net-zero emissions by 2070.
This is in contrast to India's run-up to the COP where it had strongly resisted demands by developed countries to take on net-zero targets.

Impact on India: Taking on net-zero targets, requires a sharp shift to clean energy sources that several experts have opined, which will impose a steep cost on India.
Infrastructure for Resilient Island States:
India launched this initiative as a part of the CDRI that would focus on building capacity, having pilot projects, especially in small island developing states.
Small Island Developing States or SIDS face the biggest threat from climate change, India's space agency ISRO will build a special data window for them to provide them timely information about cyclones, coral-reef monitoring, coast-line monitoring etc. through satellite.
One Sun One World One Grid Group (OSOWOG) Launched:

It is an initiative by India and the United Kingdom to tap solar energy and have it travel seamlessly across borders.
It includes a group of governments called the Green Grids Initiative (GGI) - One Sun One World One Grid group.

The aim of GGI is to help achieve the pace and scale of reforms to infrastructure and market structures needed to underpin the global energy transition.

It has the potential to be a modern engineering marvel, and a catalyst for greatly expanding renewable electricity generation, and effectively mitigating climate change in the next decade.
According to the ISA's concept note on OSOWOG, the global solar grid will be implemented in three phases.

In the first phase, the 'Indian Grid' will interconnect with the Middle East, South Asia and Southeast Asia grids to share solar and other renewable energy resources for meeting electricity needs, including during peak demand.
It will then be interconnected with the African power pools in the second phase.
The third phase would cover global interconnection of the power transmission grid to achieve the OSOWOG's vision.
Assessing India's progress towards 'green energy'
India has been a promoter of green energy to reduce carbon emission.
Although the country is yet to significantly transit to renewable energy, accounting only 22.5% of nationwide electricity production, India has been leading the global movement towards solar power.
International Solar Alliance (ISA): The country cofounded the International Solar Alliance (ISA) along with France – an alliance with more than 120 countries to promote solar energy.
Glasgow Breakthrough Agenda: To strengthen India's stand for renewable energy like solar energy, India has signed to the Glasgow Breakthrough Agenda in this year's COP26 along with over 35 other nations to promote clean energy and make it more affordable.
Compared to China's 28.4%, the U.S.'s 19.8% and some North European country's 100% transition to renewable energy for power, there is much room for improvement in India.
Challenges faced by India: There are two key struggles that India has to deal with when transitioning to green energy:

the consumption of the world's second largest population base
lack of adequate available renewable energy options
India cannot depend on nuclear power to cut down on carbon emission due to not being a member of the Nuclear Suppliers Group (NSG).
The Road ahead
The 26th COP in Glasgow was the moment countries revisited climate pledges made under the 2015 Paris Agreement. Six years ago, countries were asked to make changes to keep global warming "well below" 2C - and to try to aim for 1.5C. Ahead of it, 200 countries were asked for their plans to cut emissions by 2030. The goal is to keep cutting emissions until they reach net zero by mid-century.
Next year's COP27 summit is going to be held in Egypt.