First flight of India's newest rocket
Context
The maiden flight of the SSLV or the Small Satellite Launch Vehicle, India's newest addition to its rocket fleet, had been postponed several times in the last three years.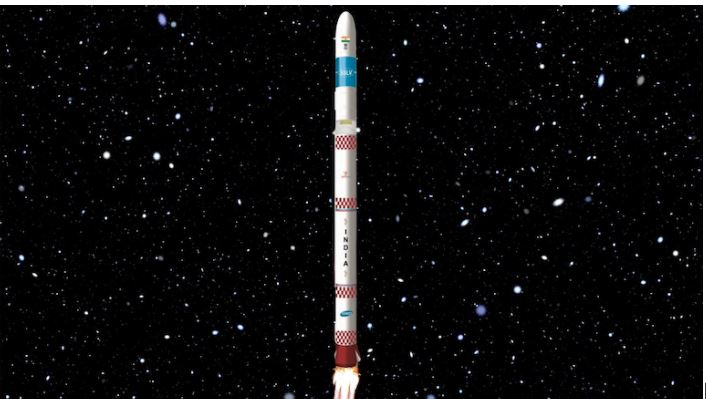 Key-points
The rocket finally embarked on its first flight, carrying two satellites, including an

earth observation micro-satellite called EOS-02.

The satellites into 356 km x 76 km elliptical orbit instead of 356 km circular orbit", adding that the "satellites are longer be usable".

A rocket that costs

at least one-tenth

of those currently in use.
About ISRO's SSLV
The SSLV seeks to serve the rapidly growing market for the launch of small satellites into the LEO (Earth's low orbits) which has emerged in recent times to serve the requirements of the developing nations, universities/institutions for small satellites, and private firms.

ISRO's SSLV is capable of carrying satellites weighing less than or equal to

500 kg.

The launch vehicle will carry the small satellites into

500 km LEO (Low Earth Orbit).

Manufacturing of SSLV is the responsibility of the commercial arm of ISRO i.e. NSIL (New Space India Limited).

SSLV is ISRO's lightest launch vehicle, weighing

around 110 tons.
Contrary to PSLV's 70 days

time to get integrated, the

SSLV takes only 72 hours.

SSLV needs only 6 people to integrate it.

It is a 3 stage Launch Vehicle configured with three Solid Propulsion Stages and liquid propulsion based Velocity Trimming Module (VTM) as a terminal stage.

The launch vehicle uses solid fuel in all its stages of flight.

The vehicle also features both vented and closed interstage.
What is Low-Earth Orbit ?
Low-Earth orbit (often known as LEO) encompasses Earth-centred orbits

with an

altitude of 2,000 km (1,200 mi) or less.
Objectives
Development of a cost-effective launch vehicle with a high launch frequency and a quick turnaround capability to cater to the growing opportunities in the global launch services market for small satellites.

To create greater synergy between the space sector and private Indian industries .
Significance