Context
Recently, the Assam government made a request to include Lachit Borphukan's valour in textbooks.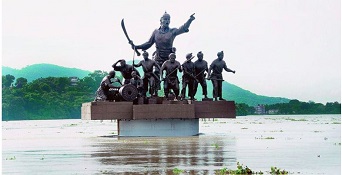 About Lachit Borphukan
Lachit Borphukan was

Born on

November 24, 1622 in Charaideo

, the first capital of the

Ahom kings.

He Led two battles against an alien Mughal army.

Battle of Alaboi:

Fought on August 5, 1669

in the Alaboi Hills near Dadara in North Guwahati.

Aurangzeb had ordered the invasion in 1669 under his ally Rajput Raja Ram Singh I who led a combined Mughal and Rajput army.

Borphukan engaged in guerrilla warfare, assaulting the invaders and then falling back until Ram Singh I unleashed his entire forces on the Ahoms, defeating them in the Battle of Alaboi.

Naval battle in Saraighat in 1671:

Lachit Borphukon's valorous leadership led to the decisive defeat of the Mughals.

According to historical accounts, Lachit is said to have tricked the Mughals by feigning an attack in front.

As the fleet advanced on the river Brahmaputra, the main Ahom fleet attacked from behind, sealing a victory for the locals.
Government's Recognition
The year-long celebration of the

17th-century Ahom general's 400th birth anniversary

is going on.

A war memorial for the soldiers who fought at Alaboi is being built as part of Lachit's 400 year anniversary.

The warrior's prowess of the north eastern soldiers remains to this day and is represented by the

Assam Regiment.

Today, Lachit's extraordinary courage and leadership is honoured by the

National Defense Academy (NDA)

which awards a gold medal in his name every year since 1999 to the best cadet.

The government is also trying to turn the burial sites (maidams) of Ahom royalty scattered across Charaideo hillocks into a

UNESCO world heritage site.