IMD launches impact-based cyclone warning system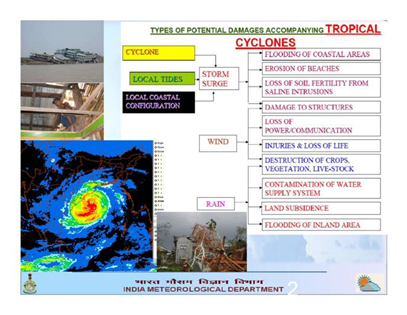 India Meteorological Department(IMD) has launched a dynamic, impact-based cyclone warning system.
To minimize economic losses and damage to property from cyclones that hit the country's coasts every year.
Under this, district or location will issue specific warnings which will factor in the infrastructure, local population; settlements, land use as well as other elements will be disseminated and prepared.
All the disaster management agencies will also make the extensive use of geological, cartographic and hydrological data available for the concerned district.
If a district is to be hit by a wind up to 160 kmph, the system will warn about the kind of infrastructure that will likely get damaged and these can be mapped.
IMD: It was established in 1875.It is an agency of the Ministry of Earth Sciences.It is the principal agency responsible for meteorological observations, weather forecasting and seismology.