Innovation and the Innovation Wars

Introduction
Since the early days of the Cold War, the United Stateshas led the world in technology,and conquered space, spearheaded the Internet, and brought the world the iPhone. However, in the recent past, China has undertaken an impressive effort to claim the mantle of technological leadership, investing billions of dollars in robotics, artificial intelligence, microelectronics, green energy, and much more.
The competition has shifted to selling 5Gwireless infrastructures around the world, harnessing synthetic biology to bolster food supplies, and racing to build smaller and faster microchips, all in a bid to grow in power.
Policymakers have called for greater government action to protect the lead in innovation: boost R & D spending, ease visa restrictions and develop more domestic talent, and build new partnerships with industry at home and with friends and allies abroad. However, there is a flawed understanding of which technologies matter and of how to foster their development.
In such a scenario, countries like the U.S. need to broaden their horizons and support a wider range of technologies - hypersonic flight, quantum computing, artificial intelligence, microelectronics and biotechnology.
Innovation Basics

In Brahmasphutasiddhanta, Brahmagupta's marvellous take on his innovation of zero was, "A debt minus zero is a debt".
Innovation could be described as the development and application of ideas and technologies that improve goods and services and make their production more efficient.
Innovation rearranges the existing elements into permutations and combinations that benefit the society.
Development of new innovative technologies which are cost effective, efficient, accessible and based on the felt needs of local population go long way in socio-economic development.

Importance of innovation
Creation of new products and services in response to unmet needs and demands of people and the country.
Innovation contributes to economic growth - Innovation creates jobs and these economic opportunities uplift and support communities through increasing the quality of life and overall standard of living.
Socio - Economic empowerment of people who are at margins of society - e.g. innovations like Smokeless Chulha can help in reducing the Indoor air pollution which improves health of women. Innovative products like Water ATMs help in reducing the burden on women in areas where accessibility of safe drinking water is a problem.
Policy Innovations - they can improve socio-economic status of targeted beneficiaries. Policy innovations like Accredited Social Health Activist (ASHA), a trained female community health activist have been credited with task of improving social indicators like Infant Mortality Rate and Mother Mortality Rate.Innovative products like Kisan Credit Cards help farmers to avoid informal lending which have usurious interest rates.
Innovation promotes efficiency - Use of innovative mobile technology and biometric authentication can improve efficiency in service delivery; reducing leakage, reducing chances of fake beneficiary etc.

Innovation Wars
It is the battle between countries or corporate operation groups, responsible for on-going operations and support of existing products and services.
The teams formed for new initiatives are usually given names like innovation team.Special teams dedicated to innovation initiatives inevitably run into conflict with the rest of the organization.
The key to avoiding conflict is incorporating an innovation leader who can collaborate well with the performance engine and a senior executive who supports the dedicated team, prioritizes the company's long-term interests, and adjudicates contests for resources.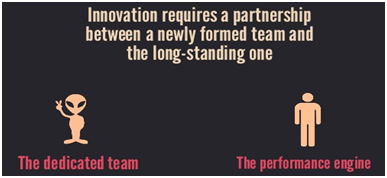 TheInnovation Challenge
Since the early decades of the Cold War, countries like the United States have spent billions of dollars dramatically on expanding their scientific infrastructure.Partnering closely with academia and companies, the U.S. government funded a large variety of basic research to build a technological foundation(conventional and nuclear defence capabilities) to ensure the country's security.
The research proved astonishingly successful. The government investment spawned cutting-edge capabilities that fastened theirmilitary superiority. GPS-enabled technologies, airbags, lithium batteries, touchscreens, and voice recognition - all got their start thanks to government investment.
Yet over time, the government lost its lead in innovation. In 1964, the U.S. government was spending 1.86% of GDP on R & D, but by 1994, that share had fallen to 0.83%.The government funding of research continued its decline relative both to GDP and to R & D spending in the private sector.
The most innovative R & D was taking place not in the labs of large corporations but at nimbler, privately funded start-ups, where venture capital investors were willing to tolerate more risk.Lately, large companies began to spend less on internal R & D and more on what they called "corporate development," or acquiring smaller, venture-backed companies with promising technologies. Over time, the S. government lost its lead in innovation.
Globalization also drove a wedge between corporations and the government. The American market came to look less dominant in an international context, with the huge Chinese consumer market exerting a particularly powerful pull.
Technology was becoming "dual use," meaning that both the civilian and the military sectors relied on it. That created new vulnerabilities, such as concerns about the security of microelectronic supply chains and telecommunicationsThese trends have also led to a concerning state of affairs - the interests of the private sector and the government are further apart than ever.

The Chinese Juggernaut
The changes in American innovation occurred alongside the rise of a geopolitical rival named China. Over the past two decades, China has evolved from a country that largely steals and imitates technology to one that now also improves and even pioneers it.
China has invested massively in R & D, with its share of global technology spending growing from under 5% in 2000 to over 23% in 2020. If current trends continue, China is expected to overtake the United States in such spending by 2025.
Central to China's drive has been a strategy of "military-civil fusion," a coordinated effort to ensure cooperation between the private sector and the defense industry.Support might come in the form of research grants, shared data, government-backed loans, or training programs.
China's investment in 5G technology shows how the process works in practice.China's Belt and Road Initiativeprovides generous loans to countries and Chinese companies to finance infrastructure construction.
Massive state investmentsand the access to enormous amounts of data(and information) have boosted the growth of China in the field of innovation and R & D.
Additionally, China has shown great interest in biotechnology. Innovations in biotechnology could help solve some of humanity's most vexing challenges, from disease and famine to energy production and climate change. Researchers have mastered the CRISPRgene-editing tool, allowing them to grow wheat that resists disease, and have managed to encode video in the DNA of bacteria, raising the possibility of a new method of data storage.
Like all powerful technologies, however, biotechnology has a dark side.Some malicious actors could create a biological weapon that target specific ethnic groups.The country that leads biotechnology's development will be the one that most profoundly shapes the norms and standards around its use.In 2018, the Chinese scientist He Jiankui genetically engineered the DNA of twin babies, prompting an international uproar.How much manipulation of the human genome is acceptable - countries will accept different degrees of risk in the name of progress and take different ethicalpositions.

The Need for a wider Thinking
The U.S. has monitored China's technological progress through a military lens, worrying about how it contributes to Chinese defense capabilities. But the challenge is much broader. China's push for technological supremacy is not simply aimed at gaining a battlefield advantage.China is changing the battlefield itself.
Although commercial technologies such as 5G, artificial intelligence, quantum computing, and biotechnology will undoubtedly have military applications, China envisions a world of great-power competition in which no shots need to be fired. Technological supremacy promises the ability to dominate the civilian infrastructure on which others depend, providing enormous influence.
The countries buying Chinese systems may think they are merely receiving electric grids, health-care technology, or online payment systems, but in reality, they may also be placing critical national infrastructure and citizens' data in their hands. Such exports are China's Trojan horse.
Despite the changing nature of geopolitical competition, the United States still tends to equate security with traditional defense capabilities. Consider microelectronics for example. They are critical components not only for a range of commercial products but also for virtually every major defense system, from aircraft to warships. Yet investment in microelectronics has fallen. Neither the private sector nor the government is adequately funding innovation - the former due to the large capital requirements and long-time horizons involved and the latter because it has focused more on securing current supplies than on innovating.
Another casualty of the overly narrow conception of security and innovation for the U.S. is 5G technology. By dominating this market, China has built a global telecommunications network that can serve geopolitical purposes. Digital infrastructure may be today's battle, but biotechnology will likely be the next.Any comprehensive assessment of the national interest must recognize biotechnology's implications for ethics, the economy, health, and planetary survival.
The governments need to appreciate both the threats and the opportunities of the latest technologies: the havoc that could be wreaked by a paralyzed 5G network or unscrupulous genetic engineering, as well as the benefits that could come from sustainable energy sources and better and more efficient health care.
A crucial candidate for long-term investment might be microelectronics, which are foundations for both military and civilian innovation but have difficulty attracting private investment dollars. Another long-term priority might be biotechnology, given its importance for the economy and the future of humanity. As for short-term priorities, governments might consider launching an international effort to combat disinformation operations or to promote 5G innovation.
A Market Mind-set
Too much government-funded research remains locked in the lab, and are unable to make the leap to commercial viability. Unfortunately, when theresearch manages to leave the labs, it often ends up in foreign hands.
Governmentswould need to take a more active role in helping research make it to the market. Many universities have created offices that focus on commercializing academic research, but most research institutions have not andthat must change. In the same spirit, the U.S. government should develop so-called sandboxes—public-private research facilities where industry, the academy, and the government can work together.
Governments could also help with commercialization by building national data sets for research purposes, along with improved privacy protections to reassure the people whose information ends up in them. Such data sets would be particularly useful in accelerating progress in the field of artificial intelligence, which feeds off massive quantities of data.
However, all this help with commercialization will be for naught, if the start-ups with the most promising technologies for national security cannot attract enough capital.To fill the gaps, governments needtheir own investment vehicles.Even just $100 million to $500 million of early-stage funding per year could help fill the gap between what the private sector is providing and what the nation needs.

India and Innovation
"Innovation is for India, what quality was for Japan; a transforming agent"
India is a fertile ground to be a technology-led innovation garage. The JAM trinity (Jan Dhan, Aadhaar, Mobile) trinity has 404 million Jan Dhan bank accounts with 1.2 billion Aadhaar and 1.2 billion mobile subscribers.
It is the fastest growing country in terms of Internetusage, with over 700 million users and the number is projected to rise to 974 million by 2025. There is a potential to add over $957 billion to India's GDP by 2035 with artificial intelligence.
India is currently ranked 48 in Global Innovation Index (2020) and has seen an uptrend since 2015. However, India falls behind several parameters of innovation such as little investment in R&D, score in patent filing and lack of enough research paper publication.
Innovation in India is being structured around the triad of collaboration, facilitation and responsible regulation.
VaishvikBharatiyaVaigyanik (VAIBHAV) Summit: It was inaugurated on October 2, 2020 where more than 3,000 overseas Indian-origin academicians and scientists from 55 countries participated to ideate on innovative solutions to our challenges.
RAISE 2020 Summit: This has been concomitant to the Responsible AI for Social Empowerment (RAISE) 2020 summit, which was held from October 5-9, 2020.
Government of India is incentivising research and development with several schemes:

Innovation in Science Pursuit for Inspired Research (INSPIRE) scholarships
The Ramanujan Fellowship, the Knowledge Involvement in Research Advancement through Nurturing (KIRAN) scheme
Smart India Hackathons (SIH)
Atal Innovation Mission (AIM)
Biotechnology Ignition Grant (BIG) scheme
Future Skills PRIME (Programme for Reskilling/Upskilling of IT Manpower for Employability) capacity building platform
Scheme for Transformational and Advanced Research in Sciences (STARS)
Scheme for Promotion of Academic and Research Collaboration (SPARC)
Impactful Policy Research in Social Science (IMPRESS)

The Reserve Bank of India, Securities and Exchange Board of India (SEBI) allow for regulatorysandboxes for piloting new ideas.
The Telecom Regulatory Authority of India (TRAI) has recently introduced recommendations for regulating cloud services in India, suggesting a light-touch regulation in collaboration with industry.
Atal Innovation Mission (AIM) is the Government of India's flagship initiative to promote a culture of innovation and entrepreneurship in the country. It has two core functions:

Entrepreneurship promotion through Self-Employment and Talent Utilization, wherein innovators would be supported and mentored to become successful entrepreneurs.
Innovation promotion: to provide a platform where innovative ideas are generated.

Major Initiativesunder AIM:

Atal Tinkering Labs (ATLs): To foster curiosity, creativity and imagination in young minds; and inculcate skills such as design mind-set, computational thinking, adaptive learning, physical computing etc. Atal Tinkering Labs have evolved as epicentres for imparting these 'skills of the future' through practical applications based on self-learning.ATLs can be established in schools (minimum Grade VI – X) managed by State/ Central Government, Local body (Municipality / Nagar Nigam), Private trusts/society or Tribal/Social welfare department etc.
Atal Incubation Centers (AICs): Fostering innovative world class startups and adding a new dimension to the incubator model.
Atal New India Challenges: Fostering product innovations and aligning them to the needs of various sectors/ministries.
Mentor India Campaign: A national mentor network in collaboration with the public sector, corporates and institutions, to support all the initiatives of the mission.
Atal Community Innovation Centre: To stimulate community centric innovation and ideas in the underserved regions of the country including Tier 2 and Tier 3 cities.
Atal Research and Innovation for Small Enterprises (ARISE): To stimulate innovation and research in the MSME industry.

AIM-iCREST is an Incubator Capabilities Enhancement program for a Robust Ecosystem focused on creating high performing Start-ups.It has been designed to act as a growth support for AIM's Atal and Established Incubators across the country.

Mission Innovation
Membership: It was announced on 30th November 2015, on the side-lines of the Paris Climate Agreement to undertake ambitious measures to combat climate change.
Principle: It is a global initiative of 24 countries and the European Union to accelerate global clean energy innovation.
Objectives:

Enhance the public sector investment to a substantial level.
Increased private sector engagement and investment.
Increase international collaboration.
Raising awareness of the transformational potential of innovation.

There are 8 innovation challenges under the mission innovation: IC1 – smart grids, IC2 – Off-grid access to electricity, IC3 – Carbon capture, IC4 – Sustainable biofuels, IC5 – Converting sunlight, IC6 – Clean energy materials, IC7 – Affordable cooling and heating of buildings, IC8 – Renewable and clean hydrogen.
Mission Innovation 2.0: To achieve the shared goal of accelerating innovation, all the members have agreed to develop a second phase (2.0) that includes:

An enhanced Innovation Platform building on current activities to strengthen the global clean energy innovation ecosystem and to accelerate learning.
New public-private innovation alliances built around ambitious and inspirational goals backed by voluntary commitments that can lead to tipping points in the cost, scale, availability, and attractiveness of clean energy solutions.

Indian Initiatives Aligned with the Mission -

Clean Energy International Incubation Centre
Increased Solar Capacity
Biofuels
Ethanol Blending Programme
UjjwalaYojana
Conclusion and the Way Forward
Innovation has the potential to build a future where AI will transform education and health care.Machine learning and block-chain will make commerce robust and resilient.Gene-drives would exterminate invasive and harmful species, gene-editing would help us bring back extinct species and reinvigorate depleted ecosystems.
The U.S. has pledged to "build back better" and restore its global leadership by dramatically boosting R & D spending, including some $300 billion to be focused on breakthrough technologies to enhance competitiveness.
This drive could be made far more effective if a rigorous process for identifying top technological priorities Even greater opportunity lies in filling the gaps in private-sector investment and undertaking a long-overdue expansion of government support for commercialization.
India today needs powerful innovation ecosystem like research institutions; it should also include idea incubators, accelerators, technology parks, a robust intellectual property rights regime, balanced regulatory systems, and strategically designed standards.
India's spending on R&D in terms of percentage of GDP has been stagnant at 0.6 to 0.7 per cent in the last two decades. It needs to increase spending on R&D in commensuration with its growing needs.
Private sector need to be engaged to foster culture of innovation through higher spending as well as sponsoring innovation through Corporate Social Responsibility(CSR).
In order to sustain technological dominance, the U.S. would have to fundamentally re-envision the why and how of innovation.
"There's a way to do it better – find it." – Thomas A. Edison