Introduction
The Indo-Pacific has been regarded as the 'maritime underbelly' of Asia and it has now emerged as the world's economic "center of gravity".
India, France, and Japan despite different geographies share similar interests in the region and are exploring new opportunities for trilateral cooperation especially in areas of maritime security.
In this report, we shall look into possible areas of convergence and challenges in this trilateral relation.
Rising significance of Indo-Pacific
In terms of geo-spatiality, the Indo-Pacific is broadly understood as an interconnected space between the Indian Ocean and the Pacific Ocean.
The Indo-Pacific is adjudged to be the center of the globe in terms of politics and economics, as it contains the world's most crucial sea routes, the world's most populous nations at its rims, which are fueling high energy demands in the World and finally, a stretch encapsulating finest global commons.
The strategic re-imagination of Indo-Pacific has been due to the following reasons:
China has become a dominant power in the region
The relative decline of the U.S. alliance system and its strive for a resurgence
What is India's strategy on Indo-Pacific?
The Act East Policy of India provides a peek into India's imagination of the Indo-Pacific.
New Delhi argues for a free and open Indo-Pacific, rules-based order characterized by freedom of navigation and settlement of disputes through dialogue.
Furthermore, the focus is on - SAGAR, i.e. Security and Growth for All in the Region approach for the Indian Ocean.
PM recently advocated Seven pillars to ensure safety and security in the region, which includes:

Capacity Building and Resource Sharing
Disaster Risk Reduction and Management
Science, Technology and Academic Cooperation
Trade Connectivity and Maritime Transport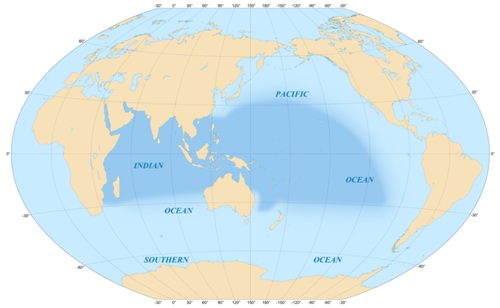 Geo-spatial location of Indo-Pacific
Opportunities for India-France-Japan Trilateral
The Indo-Pacific has witnessed the rebalancing of powers various times over the last few years.
Though the economic cooperation in the region has significantly grown, the geopolitical framework has remained uncertain.
In this context, partnerships like the India-Japan-France trilateral become crucial, as the vision of a "free and open" Indo-Pacific cannot be achieved by a single country and requires collective efforts.
Let us understand the stakes involved for each of the three countries in the region.
Stakes for France
Around 90 percent of French Exclusive Economic Zones are located in the Indo-Pacific, owing to its overseas territories like:

Scattered Island, Mayotte, and La Réunion Islands, Antarctic lands, and the French Southern in the southern Indian Ocean
Wallis-and-Futuna, New Caledonia, Clipperton and French Polynesia in the Pacific Ocean

France has large military deployment in the region, tasked to ensure the protection of its territories, surveillance of the Exclusive Economic Zones, and Disaster relief operations
France has a military presence at some strategic locations like:

From its presence in Djibouti, France can keep a check on the Suez Canal and Bab-el Mandeb.
From its territories of Reunion and Mayotte, France is able to conduct naval patrols in the Mozambique Channel

In order to strengthen its presence, France is working towards "interoperability" along with regional organizations like ASEAN and IORA.
Stakes for Japan
Japan's international trade is highly dependent on the Strait of Malacca, which forms a passage between the South China Sea and the Indian Ocean. Therefore, a free and open indo-pacific is essential for Japan's economic interests.
Repeated intrusions in the East China Sea by China has alerted Japan, and it wants to protect its interests in the region and protect Japan's claimed Senkaku Islands
In order to combat chronic deflation in Japan's economy, the government has taken up various pivotal connectivity projects in the region. A stable indo-pacific is important for these Japanese investments to fructify.
Japan sees India as an indispensable partner in its efforts towards Humanitarian Assistance and Disaster Relief in the region.
Stakes for India
Navigating through political and security concerns around the assertive neighbour China, India requires reliable and like-minded partners.
India seeks to uphold freedom of navigation in the Indo-Pacific and to serve as a net security provider in the region.
India has been working to develop multilateral partnerships – including maritime security partnerships with countries that equally have stakes in the region. This trilateral can prove to be a step in this direction.
Importance of the Indian Ocean Region (IOR) for India:
Energy security:
India imports nearly 80% of its crude oil requirements, which mostly arrive in the country through sea route.
Taking into account India's oil imports from sea, its offshore oil production and petroleum exports from sea, the country's cumulative dependence on sea for oil is estimated to be about 93%. Thus, IOR plays a crucial role in the country's energy security.
Trade security:
Nearly 95% of India's trade by volume and 68 per cent of trade by value are routed via the Indian Ocean.
Any barriers in the flow of traffic can have huge impacts on India's economic objectives
Resources:
IOR is an important source of various resources for the country, like
Fishing and aquaculture - The industry provides employment to more than 14 million people and is a huge source of export.
Minerals - Polymetallic nodules present at the bed of Indian Ocean, can provide the country with various minerals such as manganese, nickel, cobalt, copper and iron hydroxide.
Security threats:
India has a long coastline which makes it vulnerable from potential threats from the sea. Eg. The Mumbai terror attack was accomplished by perpetrators coming from the sea.
India has some major cities and many nuclear installations are located along its coasts. These are under continuous threat from state and non-state actors. Thus, monitoring the condition of Indian Ocean becomes important.
Piracy:
The presence of non-traditional threats like smuggling, piracy, human trafficking and illegal fishing also present major challenges. Hence, India's national interest can be secured only by a secure Indian Ocean.
Elements of India's approach to geo-politics of Indo-Pacific
1. India sees the Indo-Pacific as an opportunity to expand its footprint across the region while facing significant capacity and capital constraints.
2. Therefore, India places partnerships at the core of its Indo-Pacific interests.
Collaborations with bigger powers such as Australia, France, Japan, and the US have provided a greater platform for India to expand its diplomatic footprint
But, its relationship with smaller island nations in the region will also shape India's role in the Indo-Pacific to a great extent
3. Geopolitics of the region presents new opportunities for India's great power ambitions, India's priorities and significant future investments will remain in the Indian Ocean.
Areas of Cooperation
India, Japan, and France agree to the basic line of construction and share a common vision for Indo-pacific. These nations should understand the leverage of working together on many issues.
Apart from maritime security, other areas of cooperation may include:

Curbing illegal and unregulated fishing, mainly by China
Managing climate change and its impact
Humanitarian Assistance and Disaster Relief (HADR)

Indian Ocean Rim Association (IORA) where India is a founding member, France recently became a member, and Japan is an observer can be an effective platform to achieve pragmatic results in maritime security cooperation.
There is also the possibility of extending the longstanding coast guard cooperation between India and Japan, to France, at least on a case-to-case basis.
There is also a need to focus on thematic issues with a strong potential political impact—for instance, fisheries. Fisheries exploration is a strategic area that offers the greatest opportunity for political mobilization as it supports the economies of all three nations.
The India-France-Japan trilateral partnership narrative is a collaborative framework that can help foster greater Asian stability and thereby help strengthen cooperation in the Indo-Pacific.
India-France-Japan Digital Partnership
The Indo-Pacific region is the fastest-growing region in the world in terms of digital connectivity and internet adoptions. Africa has also seen a substantial increase in the proportion of its population that uses the internet
However numerous issues remain. These include gender, income, and the education-based digital divide.
For future growth to sustain, these regions require physical infrastructures like telecommunication networks and undersea cables and social infrastructures like well-educated, digitally literate population
A positive partnership between India, France, and Japan can bring a lot to the table
Each of the three brings expertise to the table:
India ran the Pan African e-Network project and set up fiber-optic networks to "facilitate tele-education, telemedicine and VoIP services,"
Japan has experience investing in digital infrastructure and digital literacy in Southeast Asia since the 1990s
France has managed a number of digital connectivity projects across Africa and South-East Asia.
Key Issues in Digital Partnership:
Cybersecurity and Data localization
Privacy Concerns and Protection of Personal Data
Content Regulation and Open Internet (Net Neutrality)
Advanced Technologies (AI, 5G)
Supply Chain Resilience
While the trilateral partnership between India-Japan-France is still in its formative stage, there has been strong India-France and India-Japan relations in many domains. Let us look at these bilateral relations in the following sections.
India - France Bilateral Relations
France and India have traditionally had a close and friendly relationship.
The countries entered into Strategic Partnership in 1988, as their views converged with regard to various international issues apart from a close and growing bilateral relationship.
Areas of cooperation
Maritime security cooperation mainly in the Indo-Pacific region:

The countries participating in bilateral naval Exercise Varuna
They exchange information in the area of maritime surveillance.
Heightened cooperation at multilateral bodies

India's support to France's candidacy at the Indian Ocean Rim Association (IORA)
France chaired the Indian Ocean Naval Symposium (IONS) in 2020, which bought both the countries an opportunity to be closely associated with each other's priorities

French military bases in Abu Dhabi, Djibouti, and Reunion Island can provide a multiplier effect to India, which is looking to build naval facilities in Mauritius, Oman (Duqm), and Seychelles (Assumption Island).

Space

The French (CNES) and Indian (ISRO) space agencies signed an MoU in 2015 which increased cooperation projects, like

A joint mission of India's Oceansat-3 satellite was finalized hosting France's Argos system for climate monitoring and tracking.
A jointly developed satellite, Trishna, for thermal infrared imaging was also finalized.
France is also considering contributing to India's space agency, ISRO's, upcoming inter-planetary missions to Mars and Venus.
A Joint Vision for Space Cooperation signed in 2018 has led to coordination in space and maritime collaborations. This has enabled the commencement of work on a constellation of micro-satellites for maritime surveillance.
Political/foreign relations:

France has emerged as India's one of the most reliable partners on issues relating to terrorism and Kashmir.
France has supported India's candidacy for a seat as a permanent member of the United Nations Security Council (UNSC) and also supported India's membership in various multilateral export control regimes like MTCR (2016), Wassenaar Arrangement ( 2017), the Australia Group (2018).

Defense relations:

France and its defense industry has actively contributed to India's defence sector and its "Make in India" program.
The first conventional submarine, Scorpene, was built in India with technology transfer and support from the Naval Group (formerly known as DCNS).
India acquired 36 Rafale fighter jets from France in September 2016.

Counter-terrorism:

As terror strikes have increased in France in recent years, it has enlarged the scope of counter-terrorism cooperation between both countries to include cybersecurity and discussions on radicalization.

Bilateral Trade in Goods:

France has emerged as a major source of FDI for India, with it being the 10th largest foreign investor in India.
France has focused its attention on cities of Nagpur, Chandigarh and Puducherry under the flagship program of Smart Cities.

Nuclear field:

France will help in building the Jaitapur Nuclear Power plant in Maharashtra.

Educational relations:

Here, the most significant focus has been on youth and student exchanges.
Currently, only about 2,500 Indians go to France annually to pursue higher education, while more than 250,000 go from China.

Combating climate change:

France and India actively strengthened their cooperation under the 2015 Paris Agreement on Climate Change. Together, they spearhead the implementation of this Agreement.
They jointly launched the International Solar Alliance.
India-Japan Bilateral Relations
Relations between India and Japan date back to the 6th century, when Buddhism was introduced in Japan.
Thus Indian culture had a huge impact on Japanese culture, and became a source of Japanese people's closeness to India.
After World War II ended, Japan was struggling, in this situation India's iron ore helped a great deal in Japan's recovery.
India and Japan's relationship then prospered due to their common vision of peace, stability and shared prosperity, based on sustainable development.
The global partnership between India and Japan reflects a broad convergence of their long-term political, economic and strategic interests.
Current Engagements
Maritime cooperation

India – Japan engage in Maritime bilateral exercise -
Japan is also a participant in the MILAN multilateral naval exercise hosted by the Naval Wing of the Andaman and Nicobar Command.
Japan is also a permanent member of the Malabar exercise with India and the US.

Defense Cooperation

2+2 Ministerial-level Dialogue - Foreign and Defence Ministers' Meeting
"Acquisition and Cross-Servicing Agreement" (ACSA) has been concluded between India and Japan that focuses on sharing of military logistics for greater interoperability.

Economic Cooperation

Japan has made significant investments in many infrastructure projects in India, like:

Dedicated Freight Corridor (West) between Mumbai and Delhi
Delhi Mumbai Industrial Corridor (DMIC) Project
Metro rail projects in different metropolitan cities. Eg. Chennai Metro Rail Project
Japanese private-sector's interest in India has been rising, and, currently, many Japanese companies now have branches in India.
India and Japan formed the Act East Forum, which is engaged in projects in the Northeast.
The two countries have also planned joint projects in Maldives and Sri Lanka among others to counter Beijing's influence.
Japan recently mooted the Supply Chain Resilience Initiative (SCRI), as a trilateral approach to trade, with India and Australia. This was suggested in light of COVID-19 pandemic and the ongoing trade war between China and USA, which had disrupted the Global Supply chains.
The pandemic opened new avenues of cooperation between India and Japan, such as healthcare, non-traditional security and global governance, including reform of the UN and affiliated bodies such as the WHO.
Conclusion
The India-France-Japan trilateral should find mutual interests and promote effective modes of partnership, so as to promote a rules-based inclusive Indo-Pacific region and work towards digital inclusivity.
This partnership can also help the countries to work on emerging technologies and also counter the growing Chinese hegemony. This trilateral has to be founded on a consultative character and promote capacity building, connectivity, and sustainable infrastructure development, for it to succeed.