Nord Stream 2 pipeline between Germany and Russia
Context
The consortium behind the Russia-led Nord Stream 2 natural gas pipeline has resumed laying pipes in the waters of Denmark, despite mounting pressure on the project from Washington.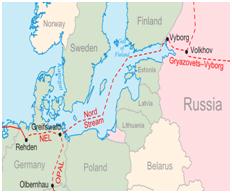 The Nord Stream 2 pipeline
The 1,200 km pipeline will run from Ust-Lugain Russia to Greifswald in Germany.
It will carry 55 billion cubic metres of gas per year to Germany.
The under-construction pipeline will run along the already-completed Nord Stream 1 system.
Why the pipeline is controversial?
Nord Stream 2 has drawn criticism from the US, it believe that the project would increase Europe's dependence on Russia for natural gas.
Currently, EU countries already rely on Russia for 40% of their gas needs.
There is an existing land pipeline between Russia and Europe that runs through Ukraine, which feels that once Nord Storm 2 is completed, Russia could bypass the Ukrainian pipeline, and deprive the country of lucrative transit fees.