Ranking the World's Sulfur Dioxide (SO2) Hotspots: 2019-2020" Report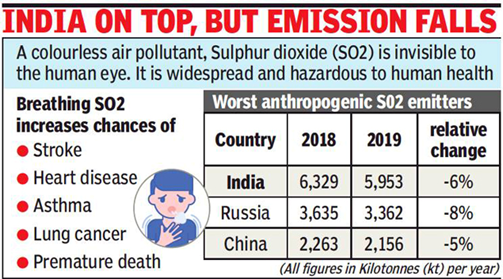 Report by: Greenpeace India and the Centre for Research on Energy and Clean Air (CREA).
India continues to occupy the top spot in world Sulphur dioxide (SO2) emissions for the fifth consecutive year in 2019.
It was followed by Russia and China.
In 2019, India emitted 21% of global anthropogenic (human-made) SO2 emissions.
However, India's SO2 emissions have recorded a decline of approximately 6% in 2019 as compared to 2018.
SO2 Emission in Cities: Among large cities, Chennai is one of the biggest emission hotspots.
Emission Hotspots: The biggest emission hotspots in India are thermal power stations (or clusters of power stations).
The major SO2 emission hotspots in India are Singrauli in MP, Neyveli and Chennai in Tamil Nadu, Talcher and Jharsuguda in Odisha, Korba in Chhattisgarh, and Kutch in Gujarat, Ramagundam in Telangana and Chandrapur and Koradi in Maharashtra.
Recommendations: Most of the power plants in India lack flue-gas desulfurization (FGD) units. Hence, FGD units should be installed to reduce SO2 emissions.
Sulfur dioxide: It is released naturally by volcanic activity and is produced as a by-product of copper extraction and the burning of fossil fuels contaminated with sulfur compounds.
It is a poisonous air pollutant that increases the risk of stroke, heart disease, lung cancer and other health issues that can lead to premature death.