Introduction
The recently released US Intelligence Report has warned about the potential fragmentation of society and the global order, holding out the possibility of a world where international trade is disrupted, groups of countries create online enclaves and civic cohesion is undermined.
For nearly two decades, the Report has been shaping strategic conversations within and beyond the U.S. government.
The global trends report has often looked at possible future situations. The report has been giving strategic warnings related to various issues that can be faced in the future.
The report says that the coronavirus pandemic has highlighted weaknesses of the international order.
This report is issued every four years.
The report is compiled by the National Intelligence Council.
It mixes more traditional national security challenges like the potentially disruptive rise of China with social trends that have clear security implications, like the internet's tendency to exacerbate political and cultural divisions.
National Intelligence Council
It is the center for midterm and long-term strategic thinking within the United States Intelligence Community (IC).
It was formed in 1979.

Objectives

:

It leads the IC's effort to produce National Intelligence Estimates and other documents.

It supports (and reports to) the Director of National Intelligence.

It serves as a focal point for policymakers' questions.

It contributes to the effort to allocate IC resources in response to policy changes.

It communicates with experts in academia and the private sector to broaden the IC's perspective.

The NIC's goal is to provide policymakers with the best information: unvarnished, unbiased, and without regard to whether the analytic judgments conform to current U.S. policy.
One of the NIC's most important analytical projects is a Global Trends report produced for the incoming US president.
The NIC has a Chairman and Vice-Chairman.
What the Report has found?
Previous Report
:
A previous version of the report, released by the Obama administration in 2017, highlighted the risk of a pandemic and the vast economic disruption it could cause.
Focus on Climate Change
Difficult adaptations

: Climate change was also a focus of the report, which noted the difficult adaptations that countries would need to make.

Building structures

: This includes building rainwater storage and reinforcing sea walls.

Global migration

: Climate change would further drive global migration, which is already increasing.

Technological innovation and cooperation

: between China and the West are keys to adapting to climate change, demographic shifts, and other challenges.
Other Outcomes of the Report
Income inequality

: Income inequality could grow worse.

Faith in a government

: The "trust gap" between an informed public that has faith in a government solution and a wider public with deep skepticism of institutions is growing.

The problem is made worse by technology

: Algorithms, social media, and artificial intelligence have replaced expertise in deciding what information spreads most widely, and that has made the public more vulnerable to misinformation.

Positive demographic changes in recent decades

: with people moving out of poverty and into the middle class, had created "rising expectations".

Fears of falling income across the globe are growing

: a worrisome trend when coupled with changes in how information is shared and social divisions have deepened.

Negative impact on democratic governments

: At the same time that populations are increasingly empowered and demanding more, governments are coming under greater pressure from new challenges and more limited resources.

Erosion of democracy

: This widening gap portends more political volatility, erosion of democracy, and expanding roles for alternative providers of governance.

Significant shifts in Governing

: Over time, these dynamics might open the door to more significant shifts in how people govern.
Examples stating how the report has often looked at possible future situations
Risk of a pandemic

: A pandemic plunging the world into economic chaos. The report has discussed the risk of a pandemic for nearly two decades

Politicians eroding alliances

: It envisioned nationalistic politicians eroding alliances.

A drop in oil prices

: causing calamity and more isolationist trade practices.

Trends toward isolation

: It also forecast a pandemic (albeit in 2023, not 2020), which restricted travel, caused economic distress, and exacerbated existing trends toward isolation.

Future concerns

: Much like the terrorist attacks of 2001, the Covid-19 pandemic is likely to produce some changes that will be felt for years to come and change the way we live, work and govern domestically and internationally.
Global challenges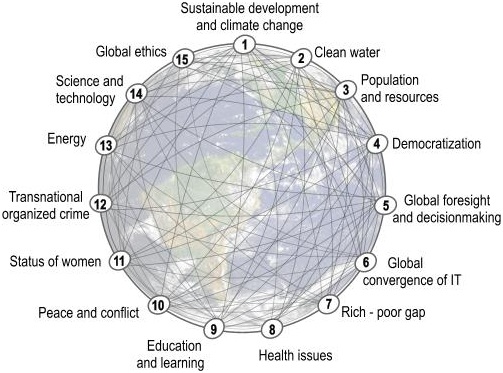 Global Challenges and Opportunities
Global supply chains

: digital media and connected devices are making our planet feel smaller and smaller. However, they can sometimes also make the world's challenges seem bigger than ever.

While the middle class is growing worldwide

: many people are still living in poverty, working in poor conditions, and struggling to build a future for themselves.

Global population

: Alongside this, the global population is expected to reach 9 billion by 2050, and humankind's environmental footprint is already larger than our planet's resources can sustain.

Creating shared value through innovative products

: It becomes important to create shared value through innovative products and technologies that improve quality of life for people and communities, while also cutting the number of resources consumed when making and using products.

Sustainable Development Goals (SDGs):

Developing tomorrow's sustainable solutions requires active collaboration today. This spirit of collaboration is at the heart of the 17 Sustainable Development Goals (SDGs) introduced by the United Nations.
Optimistic scenarios
Renaissance of democracies

: envisions a world where neoliberal economics leads to a global increase in living standards and a "resurgence of open democracies led by the United States and its allies.

It predicts that China and Russia would come out as the losers in such a scenario.

This scenario envisions, would allow the international community to better address global and domestic challenges.

Competitive coexistence

: describes US-China relations returning to a pre-Trump era form of technological, economic, and ideological competition.

Tragedy and mobilization

posit a coming global coalition led by the EU and China that would use "far-reaching changes" to fight climate change, poverty, and resource depletion.
The impact of COVID-19 on globalization
Globalization has altered the way we live and earn a livelihood. Consequently, trade and travel have been recognized as significant determinants of the spread of disease. Additionally, the rise in urbanization and the closer integration of the world economy have facilitated global interconnectedness. Therefore, globalization has emerged as an essential mechanism of disease transmission.
Impact on mobility
Air Travel
Sea travel and trade
Travel restrictions
Impact on major industries
Event cancellation

Social distancing has been implemented since the pandemic broke out, which led to the cancellations of numerous events across the world. For instance, the 2020 Summer Olympics to be held in Japan was rescheduled for 2021.

Impact on workforce

With lockdowns and travel restrictions, the workforce has been affected universally. About 62% of the global employment constitutes an informal economy characterized by a lack of social security, benefits, healthcare access, income security, or the possibility of working remotely; thus exposing the most vulnerable group.

Impact on the healthcare capacity

The unforeseen pandemic has challenged the healthcare systems worldwide. Some nations are impacted less than others, as demonstrated by country-specific fatality rates.

Canada has a high number of cases in this list of the top 10 developed health systems and a low fatality rate of 2.46%. The lowest fatality was reported in Australia.

Food and agriculture

The United Kingdom, United States, Australia, Canada, and New Zealand have reported a high impact from production and supply disruptions.

Countries with higher GDP from agriculture, such as Bangladesh, have presented low exposure to supply but high exposure to the demand shocks.
Pandemic vulnerability index (PVI)
Based on results calculated for the PVI (the higher the score, the more vulnerable), the top ten highly vulnerable countries include Brazil, India, the USA, Russia, South Africa, Chile, Mexico, Iran, Peru, and Pakistan.

South Africa and Egypt are highly vulnerable countries in Africa.

The countries with high numbers of active cases (data not shown), such as Russia, Germany, and Italy are more vulnerable than other countries in Europe.

Asia and Oceania include the majority of countries that are highly vulnerable to COVID-19, such as India, Iran, Pakistan, Saudi Arabia, Turkey, Qatar, Iraq, and Oman.

Countries such as Brazil, Chile, Peru, and Colombia are highly vulnerable in South America, although most of them have a moderate number of active cases.

The USA has the highest number of active cases and is ranked 3rd in the world and is considered highly vulnerable.
Economic situation in India
General data

In India, up to 53% of businesses have specified a certain amount of impact of shutdowns caused due to coronavirus on operations, as per a FICCI survey.

The unemployment rate had increased nearly 19% within a month, reaching 26% unemployment across India, according to the 'Centre for Monitoring Indian Economy'.

More than 45% of households across the nation reported an income drop as compared to the previous year.

Several young start-ups have been impacted as funding has fallen.

Electricity consumption has declined strongly after the national lockdown was enacted.

Pre-pandemic slowdown

India had also been witnessing a pre-pandemic slowdown.

Even before the pandemic, since FY 2018–19, India's growth was falling, 8% in Q4 FY18 to 4.5% in Q2 FY20.

The International Monetary Fund reduced India's GDP estimates for 2019 and also reduced the 2020 GDP forecast.

Ratings and GDP estimates

Moody's Investors Service (Moody's) revised its estimate of India's GDP growth for 2020 from 5.3% to 2.5%.

Fitch Ratings revised its estimate for India's growth to 2%. 'India Ratings & Research' also downgraded the FY21 estimate to 3.6%.

The World Bank and rating agencies downgraded India's growth for the fiscal year 2021 with the lowest figures India has seen in three decades since India's economic liberalization in the 1990s.

Exports and imports

Energy

Night lights and economic activity are connected.

In Delhi, night light radiance fell 37.2% compared to 2019. This was the biggest fall for any metro in India.

Bangalore fell 32% while Mumbai dropped by 29%.

An International Energy Agency report in April estimated India's annual fuel consumption will decline 5.6% in 2020.

Oil prices dropped sharply in 2020 following the COVID-19 pandemic. Demand also fell sharply.

By mid-May, India had already filled its strategic storage including storing oil on ships across the world. India is now looking at storing oil in other nations including America

Agriculture

10% of farmers could not harvest their crop and 60% of those who did harvest reported a yield loss" and that a majority of farmers are facing difficulty for the next season.

Due to logistical problems following the lockdown tea estates were unable to harvest the first flush. The impact of this on the second flush is not known.

The entire Darjeeling tea-based tea industry will see a significant fall in revenue.

Manufacturing

Major companies in India such as Larsen and Toubro, Bharat Forge, UltraTech Cement, Tata Motors momentarily suspended or significantly reduced operations in a number of manufacturing facilities and factories across the country.

Nearly all two-wheeler and four-wheeler companies put a stop to production.

Defence

The Department of Military Affairs led by the Chief of Defence Staff postponed all capital acquisitions until the coronavirus pandemic recedes.

While the delivery of S-400 missile systems won't be affected, the delivery of Rafale fighter jets was reported to maybe being affected.

State income and expenditure

State governments incurred huge losses to the extent of having to cut capital expenses as well as government plans in the near future and finding alternate ways to pay salaries.

The ban during the lockdown affected alcohol sales, in turn having a major effect on the state revenue.
Conclusion
Challenges aren't going to stay within the borders of a single country anymore, and we're going to feel them globally much faster. This may be a foreshadowing of things to come.
The pandemic has exposed the urgent need to revisit disaster preparedness and public health response to a health crisis such as COVID-19. Though much progress has been made in the nations' and the world's ability to respond to a public health emergency, the healthcare capacity of various powerful nations has been tested during this pandemic.
Even developed countries with sophisticated infrastructure, sanitation, and hygiene that have undergone epidemiological transitions are facing difficulties controlling the epidemic.
Less developed countries, however, have been overwhelmed, with many nations unable to adequately respond to and control the pandemic due to the lack of infrastructure, resources, fragile governments, and impoverished communities.