DRDO successfully flight tests Indigenously Developed Anti Radiation Missile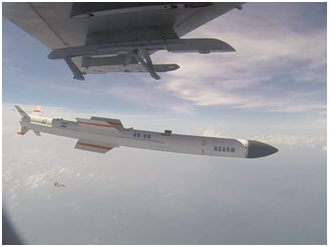 RUDRAM: India's first indigenous anti-radiation air-to-surface missile for Indian Air Force (IAF).

The missile is integrated on SU-30 Mk1 fighter aircraft.
It is designed to detect, track and neutralize the adversary's radar, communication assets and other radio frequency sources which are generally part of their air defense systems.
The missile's navigation mechanism comprises an inertial navigation system — a computerized mechanism that uses changes in the object's own position coupled with GPS which is satellite-based.
For guidance, it has a "passive homing head" — a system that can detect, classify and engage targets (radio frequency sources in this case) over a wide band of frequencies as programmed.
The missile has an operational range of more than 100 km, based on the launch parameters from the fighter jet.