Sub-Mission on Agricultural Mechanization(SMAM).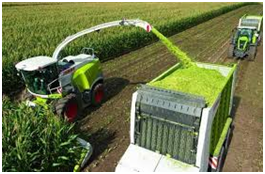 Sub-Mission on Agricultural Mechanization(SMAM)2014 for inclusive growth of farm mechanization to boost productivity.


To expand the reach of farm mechanization to small and marginal farmers and to the regions where availability of farm power is low;
Promoting 'Custom Hiring Centers' to offset the adverse economies of scale arising due to small landholding and high cost of individual ownership;
Creating hubs for hi-tech & high value farm equipment's.
Creating awareness among stakeholders through demonstration and capacity building activities.
Ensuring performance testing and certification at designated testing centers located all over the country.

Agriculture Infrastructure Fund: a Central Sector Scheme, aims to provide medium to long-term debt financing for setting up of post-harvest infrastructure and communityassets for marketing of farm produce.
Under the scheme, Rs. 1 Lakh Crore will be provided by banks and financial institutions as loans with interest subvention of 3% per annum and credit guarantee coverage under Credit Guarantee Fund Trust for Micro and Small Enterprises (CGTMSE) scheme for loans up to Rs. 2 Crore.
Beneficiaries: Farmers, PACS, Marketing Cooperative Societies, FPOs, SHGs, Joint Liability Groups (JLG), Multipurpose Cooperative Societies, Agri-entrepreneurs, Startups, and Central/State agency or Local Body sponsored Public-Private Partnership Projects.
PM KISAN: It is a Central Sector Scheme launched in 2018 to provide income support by way of a cash benefit to all landholding farmers (subject to certain exclusion criteria) to enable them to fulfill their agricultural requirements and support their families.Financial benefit of Rs.6000/- per year is provided to eligible beneficiary farmers in three equal installments.