Kalam Program for IP Literacy and Awareness Education campaign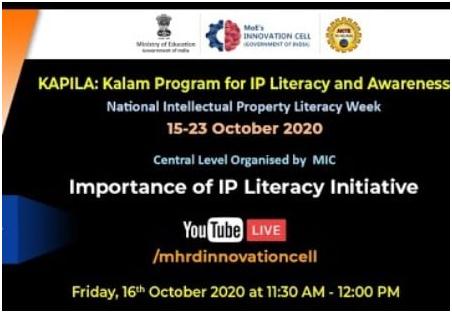 Ministry of Education launched the 'KAPILA' Kalam Program for Intellectual Property Literacy and Awareness campaign on the 89th birth anniversary of former President and Scientist Late Dr. APJ Abdul Kalam.
Under this campaign, students pursuing education in higher educational institutions will get information about the correct system of application process for patenting their invention.
Intellectual Property Literacy Week: The week of October 15th to 23rd as 'Intellectual Property Literacy Week'. Online awareness will be created about the system and the importance of the process of applying for a patent.
Institution Innovation Council: Established by Ministry of Education, it aims to systematically foster the culture of Innovation amongst all Higher Education Institutions (HEIs).