India to sign Basic Exchange and Cooperation Agreement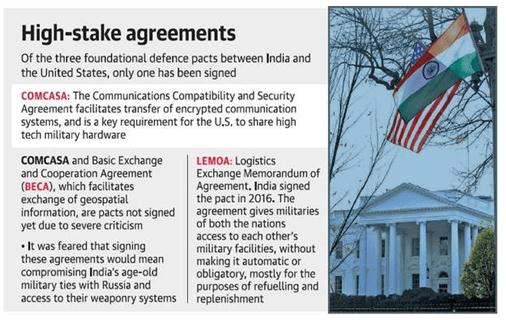 The Defence Minister Rajnath Singh and external affairs minister Jay Shankar will hold 2+2 dialogue with their United States counter parts.
The dialogue is to be held between October 26 2020 and October 27 2020.
During the dialogue India and US will sign the fourth and final foundational military pact called BECA is basic exchange and cooperation agreement for Geo spatial cooperation.
Apart from this the countries will also sin 3 billion USD worth deals.
This includes six Apache attack Helicopter and Romeo Naval helicopters. With this the total value of Indian defence deals with the United States will become 21 billion USD since 2007.
India has already signed the following agreements with the United States GSOMIA in 2002, LEMOA in 2016, COMCASA in 2018.
This agreement will allow India to use the Geo-spatial maps of the United States.
This is an important precursor to acquire the armed unmanned aerial vehicles from the US. One such UAV is Predator-B.
GSOMIA: is the General Security of Military Information Agreement. It was signed in 2002. It allows the military of the countries to share intelligence gathered by them. It provides a Framework for exchange and protection of military information between the countries.
LEMOA: It is Logistics Exchange Memorandum of Agreement. It allows the countries to gain access to each other military facilities. This includes refueling and replenishment. It was signed in 2016. Under this agreement, in October 2020, the US aircraft refueled at the Andaman and Nicobar Islands for the first time. The P8 Poseidon aircraft of the United States land and Port Blair in completely armed position for logistics and refueling support.
COMCASA: It is Communications and Information Security Memorandum of Agreement. It is valid for 10 years. It aims to transfer highly sensitive communication security equipment from USA to India. This will help in streamlining the interoperability between the armed forces of the countries.