India's health budget spend fourth lowest globally: Oxfam report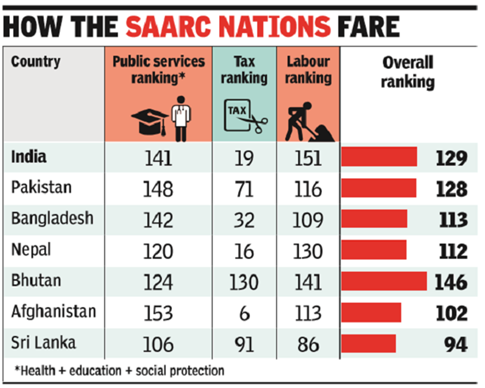 Oxfam has released a report titled "Commitment to Reducing Inequality (CRI) Index,2020".
The index ranks 158 countries measuring their policies and actions in three areas that it said are proven to be directly related to reducing inequality in Public services(health, education and social protection)Taxation andWorkers rights.
The index has been topped by Norway followed by Denmark and Germany.
India: It has been ranked 129 overall in the index.
Public Services: In terms of its public services such as health, education and social protection, India has been ranked 141.
Taxation: In terms of taxation, India has been ranked 19th in the index.
Workers' Rights: India has fared poorly in protecting labour rights and has slipped to rank 151.Other Facts Related to India:India has spent just 4% of its budget on health going into the pandemic — fourth lowest in the world.
Only half of India's population have access to even the most essential health services while over 70% of health spending is being met by people themselves.
Most workers earn less than half of the minimum wage.
Further, only around 10% of the workforce in India is formal with safe working conditions and social security.