RashtriyaKamdhenuAayog: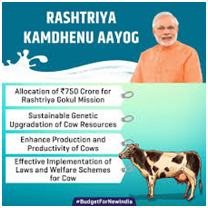 RashtriyaKamdhenuAayog begins nationwide campaign to celebrate "KamdhenuDeepawaliAbhiyan" – Promoting extensive use of cow-dung/ Panchgavya products this Diwali Festival.
RKA aims reaching 11 crore families to ignite 33 croreDiyas made of cow-dung during this year's Deepawali festival.
Apart from generating business opportunities for thousands of cow-based entrepreneurs/farmers, the use of cow-dung products will lead to a cleaner and healthier environment.
By providing an environmentally friendly alternative to Chinese made Diyas, the campaign will boost the 'Make in India' vision also.
RKA, contituted in2019, is a high-powered permanent apex advisory body with the mandate to help the Central Government to develop appropriate programmes for conservation, sustainable development and genetic upgradation of indigenous breeds of cows.
It comes under the Ministry of Fisheries, Animal Husbandry and Dairying.
Verifying, please be patient.